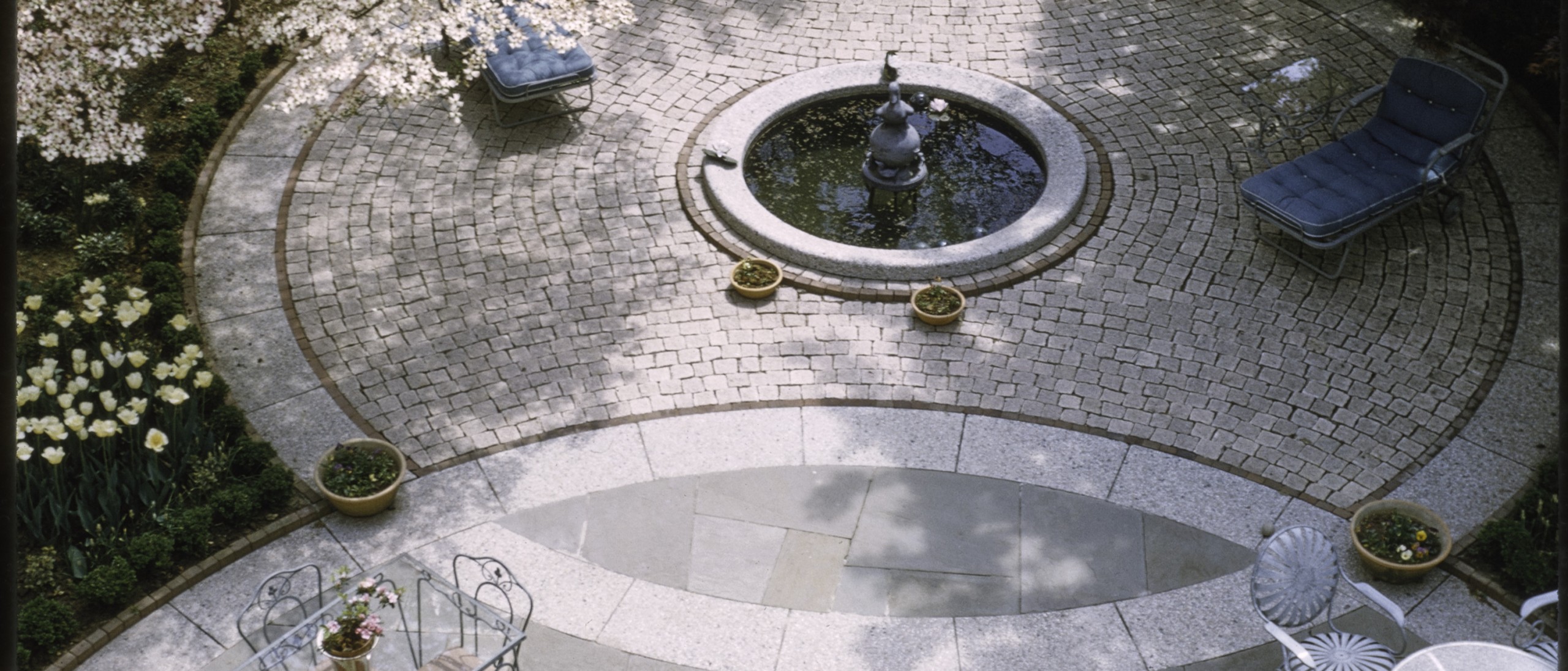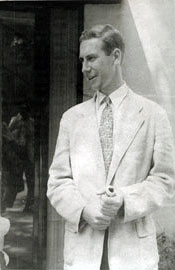 Perry Hunt Wheeler was born on October 5, 1913 to Sarah and John L. Wheeler on their farm in Cordele, Georgia, 140 miles south of Atlanta. With his brother John and sister Pauline, Perry spent his childhood in Georgia's self-proclaimed "watermelon capitol of the world," until leaving to pursue attend Emory University.
Wheeler left Emory to study at the nearby University of Georgia, where he attained a bachelor's degree in 1937. That same year, he enrolled in Harvard University, earning a graduate degree in landscape architecture in 1938. Notably, Garrett Eckbo, James C. Rose, and Dan Kiley were also students in Harvard's landscape architecture program at the time. The curriculum at the Harvard School of Design strictly followed the Beaux-Arts approach, but the influence of the Bauhaus and the International Style was beginning to trickle across the Atlantic to influence a younger generation of architects and landscape architects.
After graduating from Harvard, Wheeler returned to Atlanta, where he formed a partnership with Helen Clarke, a friend and landscape enthusiast almost 20 years his senior.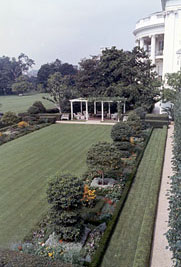 After World War II, Wheeler relocated to Washington, D.C., where he became known for his small private gardens, many designed for society's elite in Georgetown. Wheeler's reputation for elegant yet modern designs also garnered him several public commissions, including the White House rose garden (designed in collaboration with Rachel "Bunny" Mellon); a Garden Club of America-commissioned pagoda and its surroundings for the U.S. National Arboretum; plantings for the National Cathedral; and President John. F. Kennedy's gravesite in Arlington National Cemetery.
Perry Wheeler died of cancer at the age of 76 in Virginia.
Wheeler's Style
While the prevailing style in landscape architecture during the late 1940's into the 1960's was decidedly modern, Wheeler borrowed selectively from the design movement to create gardens that embraced a softer vision of modernism that incorporated historic and decorative details. He tailored each design to suit his client's personal styles and their available space, whether they were looking for a fresh approach to the Beaux-Arts garden for their country estate, or a small, functional design for a city garden.
Although Wheeler created a unique design for each client, his gardens incorporated similar elements, including activity-specific areas for recreation, entertaining, or conversation; a distinctive use of hardscape; water features; and plantings of boxwood and other green shrubs, as well as bulbs and flowering trees for color in the spring.
The majority of Wheeler's clients lived in or around Georgetown in Washington, D.C. Georgetown underwent gentrification in the 1930's as members of Franklin D. Roosevelt's administration moved into the area, and by the postwar period a new wave of the political elite transformed Georgetown into a fashionable address. New residents were attracted to the historic Federal row houses and the social cache attached to the neighborhood, courtesy of such residents as John and Jacqueline Kennedy. The Old Georgetown Act of 1950 prevented owners from altering the exteriors of their homes, but the small, private backyards were ripe for redesign and modernization.
Below are a few garden features common to Wheeler's designs: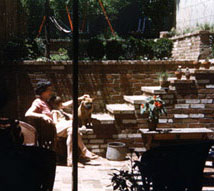 The Outdoor Living Room
After WWII, magazine editors advocated for the adoption of a more relaxed, casual lifestyle popularized in such periodical as House & Garden and Sunset. The success of these magazines reflected an expanding interest in home and garden improvement in postwar America. Articles offered advice on garden designs, often for the small suburban home, and showcased notable gardens by prominent landscape architects.
Though Wheeler mostly designed gardens for a small population of affluent clients, he frequently contributed prescriptive articles and designs to magazines. In his articles he covered such topics as appropriate regional plantings and advice on ways to individualize a suburban tract home with a garden. Gardens were not to be admired from afar, or delicately strolled through, but actively experienced through barbecues, sports, outdoor parties, and gardening with the family.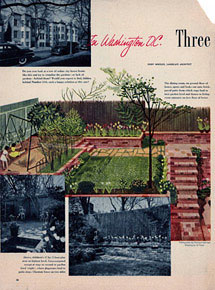 In 1953 Wheeler created a design for "The Bride's First Garden: A Five Year Plan" for House & Garden. The plan catered to a young couple on a budget living in a typical, suburban home and emphasized spaces for informal socializing and relaxation over formal elements. In his notes for the design, he suggested investing in a few pieces of antique garden furniture to go with more modern pieces, rather than purchasing a matching suite.
Wheeler was fond of visually separating different functional areas with a change in elevation or a variation in the decorative patterning of the hardscape. In addition to typical spaces for conversation and dining, he would also include a play space for couples with young children. One of his most memorable designs, showcased as a "Three Purpose Garden" in The American Home magazine, was a three-level townhouse garden in Washington, D.C. that only measured 17 ½ feet wide by 47 ½ feet deep. Distinct spaces enabled the family to socialize together, but allowed the parents and children to enjoy their own activities. The first level was a brick-paved patio for enjoying the paper in the morning or evening cocktails. Steps led up from the terrace to a grassy lawn, and a flagstone walkway wound past flower beds to a slightly higher third level with a play set for the children. Wheeler so enjoyed designing this small, terraced garden, and thought it would contribute considerably to his portfolio, that he only charged the family $100 for the design, a nominal amount compared to his standard fees.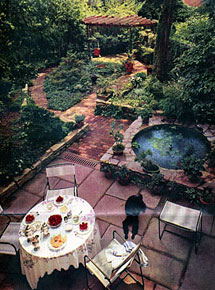 A very casual, low-maintenance garden designed for Wallace Fulton in the early 1960's was highlighted in a national home design magazine. Fulton's collection of dwarf trees served as  the centerpiece of the design, but equally eye-catching were the elegant, unassuming walkways and terraces shaped by the owner's need for a relaxing space to enjoy the conifer collection. The author of the article was spot-on in his assessment of the changing role of the garden in American culture:
"The mid-century phenomenon called 'outdoor living' may not be peculiar to America, but without question it has achieved a special character here. It is a national preoccupation without parallel . . . It has changed the face of the American garden, shifted the focus of the house from the front yard to the rear terrace, inspired a totally new concept of cooking and entertaining outdoors, and satisfied a host of other needs for the 20th-century American—more living space, a yearning for sunlight and shade, a place of retreat from an encroaching world."
Hardscape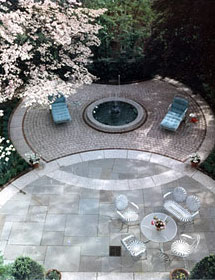 A well-designed hardscape was a common feature in Wheeler's urban designs. Utilizing a combination of brick, flagstone, gravel, or Belgian block, Wheeler's hardscapes added visual interest to a garden while simultaneously lessening the amount of required maintenance.
Wheeler was fond of employing decorative patterns, such as brick arranged in a herringbone motif, which looked interesting both at ground level and from above. Visual as well as practical appeal was considered in the development of the final plan. Terraces were popular garden fixtures in the mid-century period, and Wheeler's designs combined the appeal of casual, modern living and entertaining with a Beaux-Arts eclecticism that would have been appealing to his Georgetown clients. For the McGuire Garden in Washington, D.C., he designed a terrace of concentric circles, utilizing a variety of differently colored and textured stones, resulting in a design that was both decorative and freshly geometric. The terrace could easily transition from a daytime respite from city life to an enchanted evening garden for formal parties. Characteristically, Wheeler often took cues from trends in modern landscape architecture, such as the desire for defined outdoor activity arenas, and juxtaposed a contemporary approach with a wide variety of historical styles.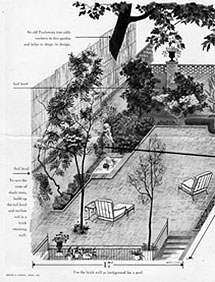 Water Features
Traditionally, a fountain is used to bring both visual interest and an added dimension of sound to a garden. To suit a variety of designs, Wheeler's choice of water features ranged from traditional sculptural fountains (featuring cherubs, masks, or animals) to a single jet stream. Wheeler favored the Erkins Studio in New York for the more sculptural fountains, as it manufactured beautiful reproductions that fit in nicely with the more traditional aesthetic found in some of his Georgetown gardens.
In small gardens he often placed a modest-sized rectangular pool in a corner or against the edge of a wall, creating a peaceful nook for escape and relaxation. This approach can be seen in the Snitzler Garden, a design that was subsequently featured in House & Garden in 1951 as an example of a way to make the most of a small garden space.
A low, square brick fountain paired with a simple jet stream contrasted with a playful cherub and colorful flowers to create an atmosphere that was both modern and whimsical.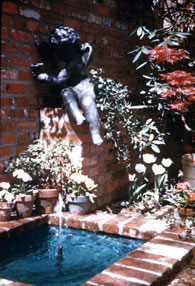 Plantings
In addition to the hardscape, Wheeler's plantings were the most distinctive aspect of his designs. Not much for summer flowers, Wheeler's tastes usually leaned toward a combination of green and flowering shrubs, bulbs, and trees. Some of his favorites included boxwood, azalea, juniper and liriope, bulbs like tulips and hyacinths, and flowering trees such as dogwood and magnolia.
In the winter, when foliage died back and left in its place symmetrical plantings of boxwoods and evergreens, Wheeler's gardens revealed a strikingly architectural form. Unlike many of his contemporaries, who eschewed flowers and decorative plantings for a more modern blend of mowing strips and low-maintenance shrubbery, Wheeler achieved color and texture in his gardens by using a wide variety of plants. His correspondence with nurseryman Henry Hohman of Kingsville Nursery in Maryland reveals a friendship founded upon a mutual love of discovering new and interesting varieties of shrubs.
Wheeler's Clients
Wheeler's clients included an array of doctors, lawyers, military figures, and statesmen; others were key players in Washington's high society during the 1950's and 1960's. Noteworthy clients included Mrs. Paul Mellon, Mrs. Herbert May, Marjorie Merriweather Post, and the original "hostess with the mostest," Perle Mesta. While Wheeler did not formally advertise, his considerable visibility in society was more than enough to bring him a steady stream of commissions.
In addition to having productive professional relationships, Wheeler developed lifelong friendships with many of his clients. Correspondence between Wheeler and his clients reveals his acute attention to detail and a thoughtfulness that made the client less of a spectator and more of a partner in the design, which ultimately culminated in a more collaborative vision.
Wheeler was not only a professional success but a social one too. Numerous newspaper articles mention his presence at embassy parties and Georgetown social functions. His own parties even made the news; one fete in particular was attended by Margaret Truman and covered in the Washington Post society page.