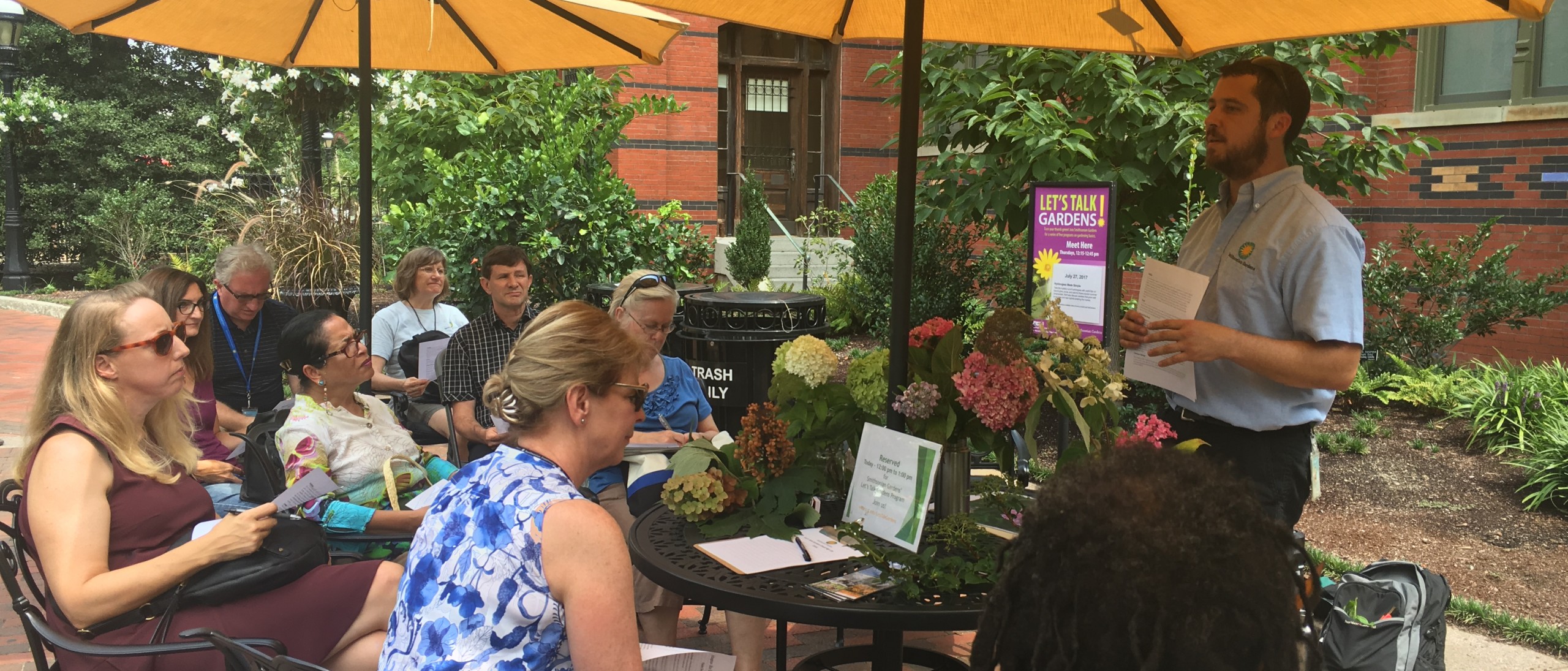 Let's Talk Gardens
Thursdays, 12:15 to 12:45 through the end of October
East Walk of the Smithsonian's Enid A. Haupt Garden
Turn your thumb green! Join Smithsonian Gardens' horticulturists for a series of free lunchtime talks and demonstrations on gardening basics.
In the event of inclement weather, this program will be moved to the Smithsonian Gardens Headquarters at Capital Gallery, West, Suite 3300, 600 Maryland Ave. SW. Click here for information on location changes for specific program dates.
Help us celebrate National Public Garden Week with special programs all week: Monday, May 13 through Friday, May 17, 12:15 – 12:45.
May 9, 2019 – Perfect Patios
Discover how to turn your patio or balcony into a summertime oasis!
May 13, 2019 – Terrific Tillandsia & Superb Succulents
Tillandsia and Succulents are great for houseplant beginners and experts. We'll demonstrate how to care for Tillandsia and Succulents and discuss the best cultivars for the home garden.
May 14, 2019 – Attracting Birds to Your Garden
Native plants support insects that in turn, support native birds. Learn about a diverse selection of plants that attract birds by providing them with food and shelter.
May 15, 2019 – Mushrooms: Life Underground
Have you ever asked, "Why are mushrooms growing in my garden?  Where do they come from and what does their presence mean?" Explore the intricacies of life underground and the function of fungi and their fruiting bodies, the mushroom.
May 16, 2019 –  Tips & Tricks for Hanging Baskets
Designing and caring for hanging baskets can be tricky, but they are a simple, adaptable way to add color and interest to your deck, patio, balcony, or garden. Let us show you how to create and maintain a hanging basket that looks great all summer long.
May 17, 2019 – How to Make a Pollinator House
Come join us for a demonstration on how to make pollinator houses and learn how to make room for beneficial insects.
Regular schedule:
Thursdays 12:15-12:45 pm | May – June | September – October
East Walk of the Smithsonian's Enid A. Haupt Garden
May 23, 2019 – Edible Flowers: Beautiful and Delicious
Surprise dinner guests, or even your own family, with colorful, edible additions to your meals.
May 30, 2019 – Herbs for Summer Cocktails
Add seasonal flare to your summer cocktails with herbs from your garden.
June 6, 2019 – Create a Centerpiece from Your Garden
Learn how to use what is growing in your garden to make creative, beautiful centerpieces.
June 13, 2019 – Mini Gardens on a Shelf
Learn how to design and assemble a miniature landscape suitable to display in a home! A variety of examples will be displayed to get your creative juices flowing.
June 27, 2019 – Gardening for Pollinators: Creating Habitat for Everyone
Whether you have a large property or a few containers on an urban balcony, you can create a habitat. Learn how to increase habitat for pollinators in your homes and communities.
September 5, 2019 – Four Season Gardens- Great Combinations
Discover how to create a garden that delights the senses all year around.
September 12, 2019 –  Plant This Not That: Native Alternatives for Invasive Plants
Learn which plants to avoid when planning or adding to a home garden. Native plant choices will be highlighted- offering beauty, functionality, food, and shelter for wildlife.
September 19, 2019 – Tree Pruning Basics
Smithsonian Gardens' arborist will review reasons to prune and then demonstrate basic techniques.
September 26, 2019 – 10 Native Trees
Fall is the perfect season to plant trees and shrubs.  Spend your lunch hour learning what native trees to plant that will attract wildlife and pollinators to your garden.
October 3, 2019 – Attracting Birds to your Home and Garden
Native plants support insects that support native birds. Learn about a diverse selection of plants that attract birds by providing them with food and shelter.
October 10, 2019 – Home Care for Orchids
Join us for a lunchtime chat for an A to Z guide on home orchid care.
October 17, 2019 – Improving Indoor Habitats with Houseplants
Come explore the ways in which you can benefit from growing plants in your home and workplace. Discover which plants will work best in your home, and learn how to care for them.