Dad's Day
Don't forget, Father's Day! Father's Day means letting dad know you love him, handmade cards, and family get-togethers. Special occasions are the perfect opportunity to learn more about your family history. Is your pops passionate about perennials or peppers?  This weekend, trying to get dad gabbing about his garden. Does he remember the first plant he successfully grew? Who taught him how to garden? What's his favorite thing to grow? Does he have any tips for young gardeners just starting out? Any old photos of his backyard or garden you've never seen before? A secret recipe for the perfect compost soup? 
In honor of Father's Day, here are a few of our favorite dad stories from the Community of Gardens digital archive. Community of Gardens is a platform for collecting stories of American gardeners and gardens for future generations. Become a part of the Smithsonian by sharing your dads's story—or any garden story—today: http://communityofgardens.si.edu 
Francesco Pietanza holding up a prize squash grown in his Brooklyn, New York garden, circa 1950s or 1960s.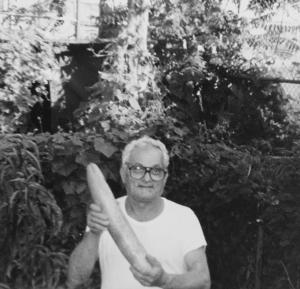 This sweeping story has it all: A young Italian immigrant arrives in Ellis Island in 1948 in search of his younger brother, settles in the Red Hook neighborhood of Brooklyn, grows a family, and grows beautiful gardens rooted in his Italian heritage, bursting with fresh figs, tomatoes, and garlic. Read the full story here. 
Paul's grandfather Harry Sr. with his prized tomatoes in his Colonial Beach, Virginia garden, 1960s.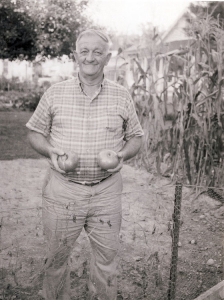 This story spans three centuries, and many bountiful crops of ripe tomatoes. Paul shared his family's garden history with Community of Gardens, beginning with his great-grandfather immigrating to America in 1881. His grandfather Harry Sr., above, grew tomatoes, and today Paul maintains a large garden that he tends with his children. 
 George Napientek (on the right) cleaning up tree damage after a storm on his homestead, November 1946.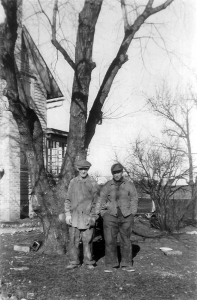 George and Olivia Napientek raised their children on this family homestead in Franklin, Wisconsin surrounded by bountiful vegetable and flower gardens. George taught all of his children to work on the farm at a young age. With hard work comes delicious rewards; according to his children (who shared this story), "apples for applesauce and pie came from Pa's orchard." I'm sure that pie was delicious with a tall glass of milk from the dairy cows! Read the full story here. 
Honor a dad in your life by sharing his garden story with the Smithsonian. Share here or email us at communityofgardens@si.edu. Help us grow our archive! 
-Kate Fox, Smithsonian Gardens educator