Transforming the Heirloom Garden into Common Ground: Our American Garden
The National Museum of American History has welcomed visitors to its doors since 1964. The landscape at the entrance consists of raised stone planters that hug the building. In the sixties, these beds were 'green and clean,' a mass of nondescript groundcovers. Over the years the creative vision of Smithsonian Gardens horticulturists brought a more diverse array of plantings, including a bounty of perennials and cottage garden flowers. Thus, the Heirloom Garden was born.
Opened in 1998, the Heirloom Garden highlighted plants grown in American gardens before 1950. These included old-fashioned, grandmother's favorites and pass-along perennials like irises and blackberry lily, as well as spring-flowering bulbs like crocus, daffodils, and tulips. The garden featured plants that Thomas Jefferson grew, Dahlias that made the All-America Selection cut, and heritage roses.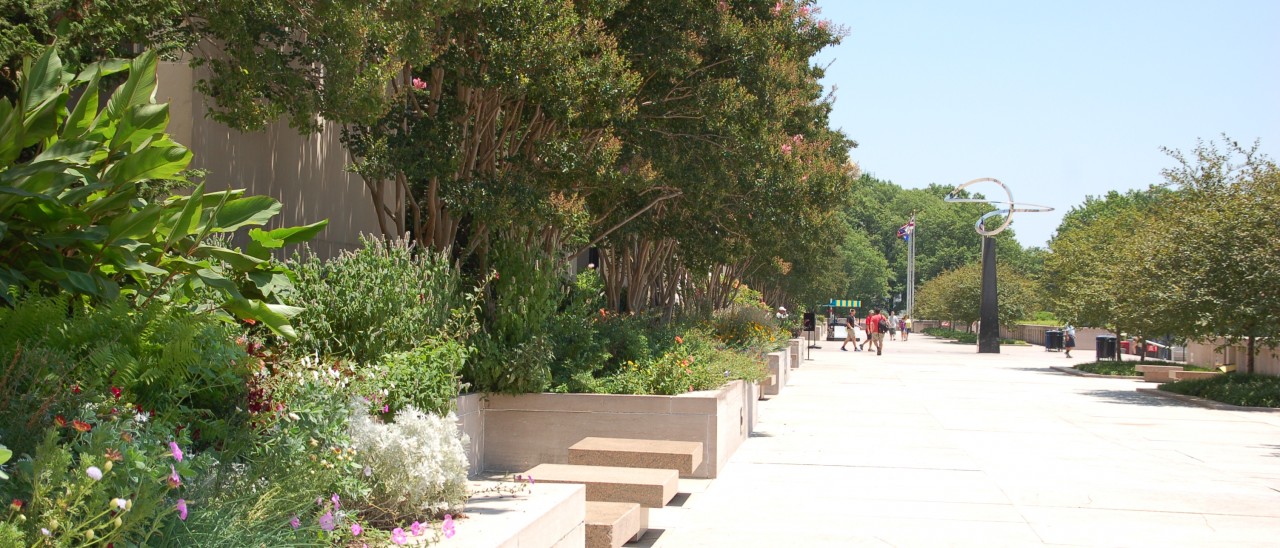 The biggest challenge turned out to be interpreting the garden. As we researched the definition of "heirloom," we discovered no clear answer. After consulting with experts and a myriad of published resources, we found that roses, bulbs, and annuals each had to meet a different standard to be considered heirloom. Depending on the criteria, plants had to be 50, 75, or 100 years old to make the grade. Sometimes newer varieties were included, as long as they were open-pollinated (pollinated by pollinators, not by the efforts of humans). In vegetable gardening, heirloom plants such as tomatoes must be open-pollinated as opposed to hybridized (two parent plants are crossed to produce a plant with specific traits).
Try putting all that information on a sign or explaining it in a tour! We needed a new approach. How could we best share the stories of plants and their importance to people in this country? While we were reimagining the garden, curators from the National Museum of American History were researching and planning their own exhibition, Many Voices, One Nation,  which asks the question, "How did we become US?" As they were nearing the end of their choices of objects and themes, the curators reached out to Smithsonian Gardens. Could we make a garden that echoed the themes of the new exhibition?
The resounding answer was yes! Smithsonian Gardens staff met with museum staff to collaborate on what would become a companion garden exhibit. Eventually, we chose four themes to capture the essential connections Americans have made with plants. Plants evoke Memory through flavor, fragrance, beauty, or herbal traditional use. Likewise, many cultures in the United States use special Healing or medicinal plants. Ingenuity and Discovery rounded out the themes that define how people throughout America's history discovered and used plants and how Americans today continue to depend on them in new ways. These themes have been translated into interpretive sign panels for the garden, now called Common Ground: Our American Garden.
Our gardeners and horticulturists took special care to prepare the new garden, salvaging plants from existing raised beds, scraping and removing soil around existing crape myrtle trees and replacing it with an engineered soil, as well as adding organic fertilizer and a topdressing of fine mulch.  We "limbed up" or pruned 24 crapemyrtles and tucked small, shade loving "plugs" of perennials such as golden sedge, columbine, and sweet woodruff between them. We followed with over 500 Mexican feather grass and more than 1500 flowering perennials such as Echinacea (in orange, purple and green), bee balm, catmint, blanketflower, and butterflyweed.
The new garden is a bright stretch of raised beds with native and exotic perennials, revealing gems of useful plants and garden history along the visitor's path. We worked to create a flowing, cohesive design. One team member brought the idea of color-blocked beds to the table, making each bed a different color. Another brought the idea of a cohesive planting mix of grasses and prairie flowers. The result is a series of orange beds punctuated by beds of blue, green and purple. Each outset bed features the same vibrant hot color while each inset bed shows a receding cool color.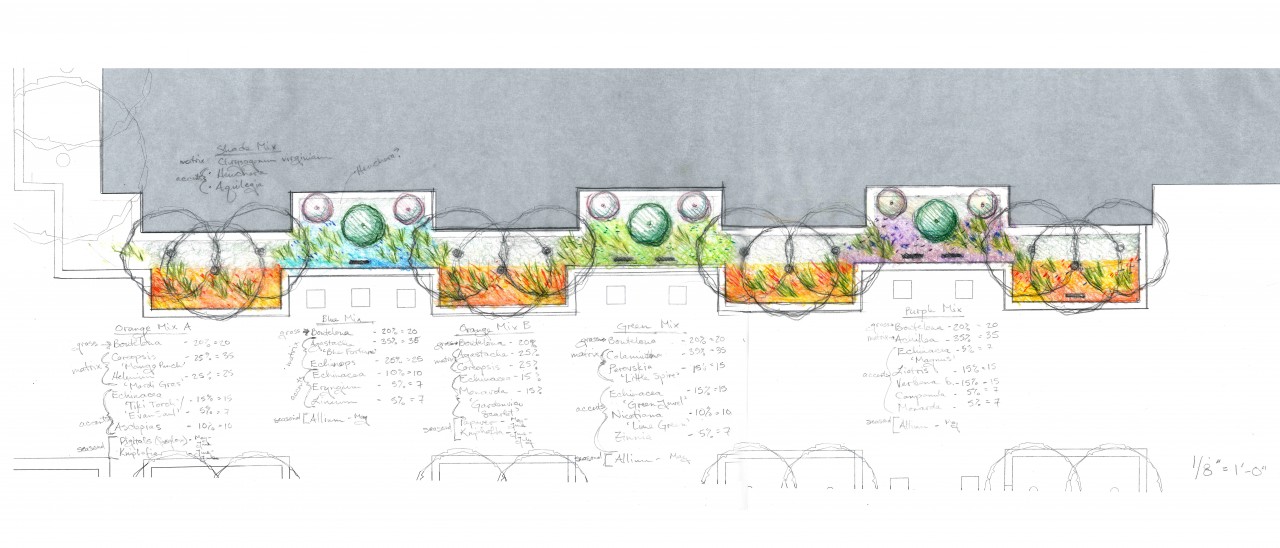 After 2 years of planning, the garden opened on June 28th in conjunction with the opening of the museum's new wing, The Nation We Build Together,  which showcases the exhibition Many Voices, One Nation. The garden now feels complete, yet it is never finished, as new seasons will continue to bring change.