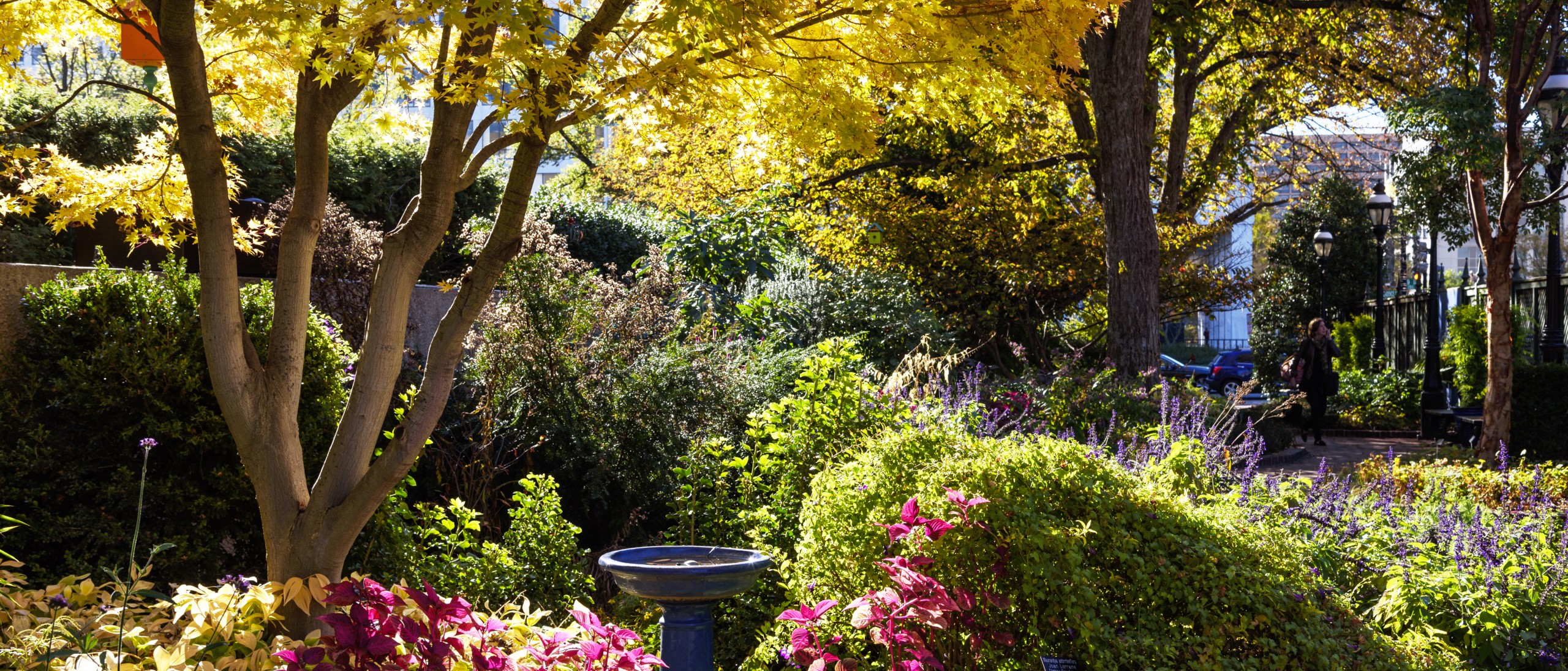 Draper's Dozen: Top Perennial Performers in Smithsonian Gardens
In a small garden, space is limited so you need plants that you can rely on to perform. Janet Draper, Smithsonian Gardens Horticulturist, will share her top dozen (or so) perennials she relies on to create a garden with year-round interest, that don't require a lot of maintenance.
Draper's Dozen (or so) top perennials
*Helleborus species and hybrids. – most are evergreen, light shade to shade. Handles drought once established. Gets better with age. (Pine Knot Nursery in Clarksville, Virginia specializes in Hellebores)
*Euphorbia chariacus ssp wulfenii – sun, well drained, cut floral stems off PRIOR to seed ripening.
*Epimedium family ('Garden Visions' is specialty mailorder Epimedium grower– final year!!) – some are totally evergreen, early spring bloom, drought tolerant shade groundcover.
currently infatuated by: 'Pink Champagne', E. fargesii, 'Domino'
*Baptisia species and cultivars: native False Indigo – full sun great foliage plant- lots of cvs. I adore B. minor, B 'Lemon Meringue', B. sphaerocephala 'Screaming Yellow'
*Amsonia hubrichtii – native Bluestar- slow to get established. Detests being moved. 3'x3' full baking sun. frothy foliage, turns golden in fall. Cut back in spring. Achillea millefolium cvs. – native
*Bletilla striata– hardy orchid. Light shade, hot pink flowers, great pleated foliage, cool seed heads. Cut back in spring.
*Yucca filamentosa 'Color Guard' – full sun ave to dry soils.
* Yucca rostrata – Beaked Yucca – forms trunk and gets taller with age!
*Salvia officinalis 'Berggarten' – full sun, well drained soil, Culinary sage, 1-2' tall by 2-3' wide, evergrey foliage, rarely blooms!
*Allium 'Millenium', 'Pink Planet', 'Windy City' – 12" tall semievergreen, long bloom season , sun
*Calamintha nepeta var nepeta 'White Cloud', 'Montrose White' – LOVE. So do the bees! Frothy blooming machine. 1' x 1' sun, ave soils, cut back in spring.
*Chrysanthemum 'Gethsemane Moonlight' – fall blooming HARDY mum –also Clara Curtis, Hillside Pink Sheffield – full sun, cut back hard in May to reduce stem length
*Hakonechloa macra 'Aureola' – Hakone Grass – pt shade to shade, emulates water flowing. 1' -1.5' tall clump former. Best with moisture. Tawny winter color and texture, Cut back in spring.
*Carex family – lots of natives, also hybrids. Many are evergreen great for shade
Favorites: Carex 'Everillo' – Ever-chartreuse! Clumper
Carex 'Feather Falls' – LONG hanging foliage, big beefy plant, evergreen