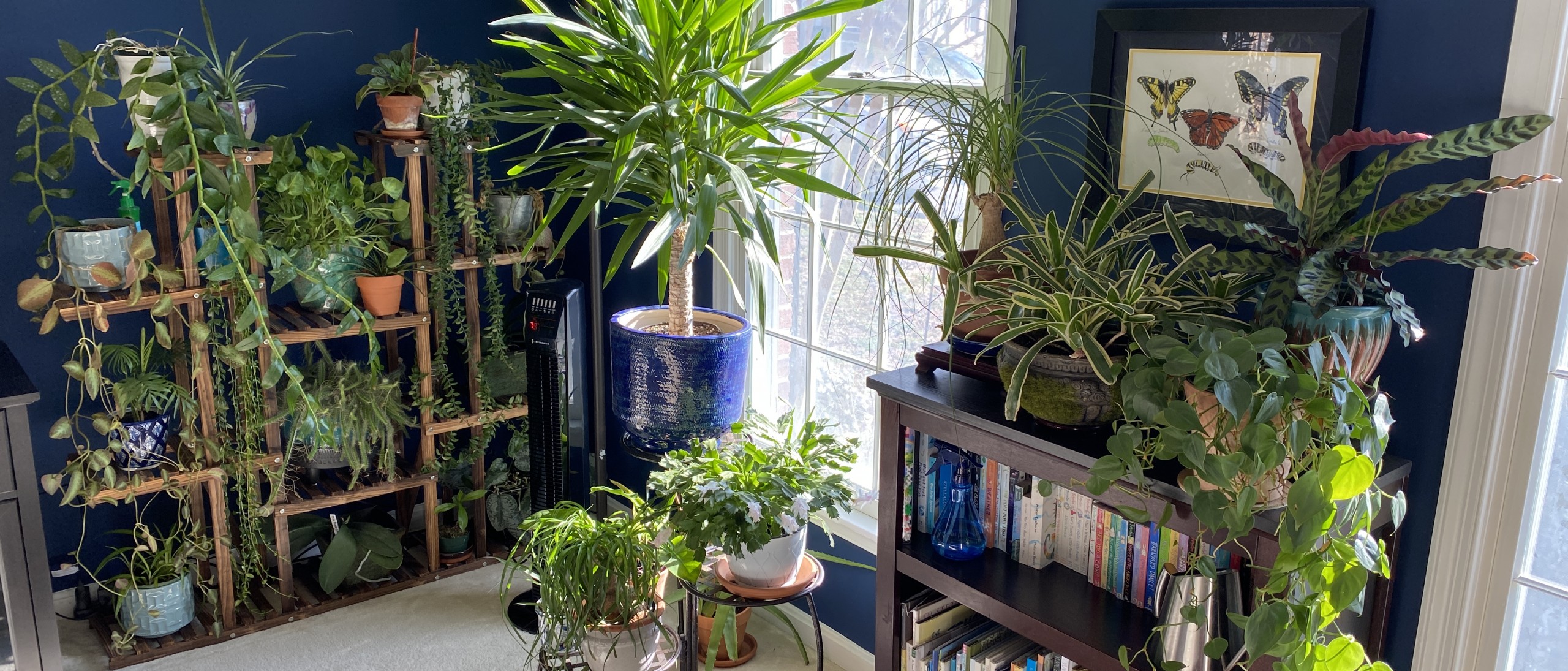 Houseplant Diversity and the Benefits of Taxonomy Knowledge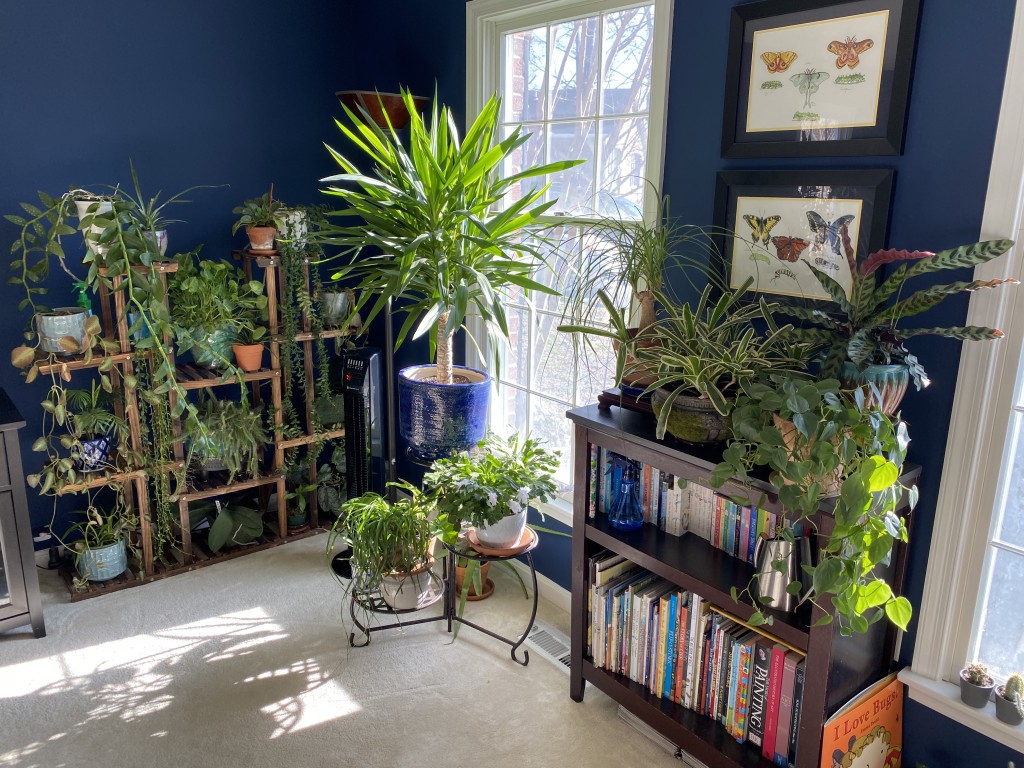 The world of houseplants is very diverse, having many common and familiar species as well as some unique and uncommon ones. Join interiors horticulturist Virginia Thaxton as she shows us some of the diversity that is available and helps us answer the question "who is related to whom?" when it comes to our houseplants. She will explain why plant taxonomy is a very important science for those of us who love plants, and how fun and useful it can be getting to know them on a first name basis!
Webinar Video
TAXONOMICAL FAMILIES of HOUSEPLANTS
Scientific and (Common Names) – compiled in 2021 by Interiors Horticulture Team
ACANTHACEAE
Aphelandra squarrosa (Zebra Plant), Fittonia (Nerve Plant), Hemigraphis (Waffle Plant/Red Ivy),
Hypoestes (Polka-Dot Plant).
AMARYLLIDACEAE
Clivia miniata (Natal Lily), Hippeastrum (Amaryllis).
APOCYNACEAE
Hoya (Wax Plant), Orbea & Stapelia (Starfish Cactus).ARACEAE
Aglaonema (Chinese Evergreen), Anthurium (Flamingo Flower & Bird's Nest Anthuriums),
Dieffenbachia (Dumb Cane), Epipremnum (Pothos), Homalomena (King of Hearts), Monstera (Swiss
Cheese Plant), Philodendron, Scindapsus (Satin Pothos), Spathiphyllum (Peace Lily), Syngonium
(Arrowhead Plant/Nephthytis), Zamioculcas (ZZ Plant).
ARALIACEAE
Fatsia japonica (Japanese Aralia), Hedera helix (English Ivy), Polyscias (Aralias), Schefflera
(Umbrella tree & False Aralia).
ARECACEAE
Caryota (Fishtail Palm), Chamaedorea (Parlor Palm or Cascade Palm), Dypsis (Areca Palm),
Howea (Kentia Palm), Phoenix (Pigmy Date Palm), Rhapis (Lady Palm).
ASPARAGACEAE
Aspidistra elatior (Cast Iron Plant), Beaucarnea (Ponytail Palm), Chlorophytum (Spider Plant),
Dracaena fragrans (Corn Plant), Dracaena marginata (Dragon Tree), Dracaena reflexa (Pleomele),
Dracaena trifasciata & D. zeylanica (Snake Plants), Ledebouria (Silver squill), Yucca (Spineless Yucca).
ASPHODELACEAE
Aloe, Gasteria (Cow Tongue/Ox Tongue), Haworthia, Haworthiopsis (Zebra Cactus).
ASPLENIACEAE
Asplenium nidus (Bird's Nest Fern).
Website: https://gardens.si.edu/ – E-mail: gardens@si.edu – IG: @smithsoniangardens – Twitter: @SIGardens
ASTERACEAE
Curio radicans (String-of-Bananas), Curio repens (Blue Chalksticks), Curio rowleyanus (String-ofPearls), Gerbera x hybrida (Gerber Daisy), Gynura aurantica (Purple Velvet Plant), Kleinia stapelliformis
(Pickle Plant).
BEGONIACEAE
Begonia rex (Painted-leaf), Begonia sp. (*Cultivars of: Cane, Rhizomatous, Tuberous Begonias).
BIGNONIACEAE
Radermachera sinica (China Doll).
BROMELIACEAE
Aechmea (Urn Plant/Vase Plant), Guzmania (Tufted Air Plant), Neoregelia (Blushing Bromeliad),
Orthophytum gurkenii, Tillandsia (Air Plants), Vriesea (Flaming Sword).
CACTACEAE
Aporocactus (Rat Tail Cactus), Astrophytum (Bishop's Hat), Cleistocactus (Monkey Tail Cactus),
Disocactus (Orchid Cactus), Epiphyllum (Queen of the Night), Ferocactus (Barrel Cactus), Kroenleinia
grusonii (Golden Barrel Cactus), Mammillaria (Fishhook Cactus), Opuntia (Bunny Ears Cactus), Rhipsalis
(Mistletoe Cactus), Schlumbergera (Thanksgiving/Christmas Cactus/ Easter Cactus).
COMMELINACEAE
Callisia repens (Turtle Vine), Dichorisandra penduliflora (Weeping Blue Ginger), Tradescantia
pallida (Purple Heart/Spiderwort), Tradescantia sillamontana (Cobweb Spiderwort), Tradescantia
spathacea (Moses-in-the-Cradle/Boat Lily), Tradescantia zebrina (Inch Plant/Spiderwort).
CRASSULACEAE
Aeonium (Pinwheel), Crassula (Jade Plant), Echeveria (Hen & Chicks), Graptopetalum
(Leatherpetal), Kalanchoe, Sedum (Stonecrops & Donkey's Tail).
EUPHORBIACEAE
Euphorbia lactea (Coral Cactus & Candelabra Spurge), Euphorbia milii (Crown of Thorns),
Euphorbia pulcherrima (Poinsettia), Euphorbia tirucalii (Pencil Cactus), Euphorbia tithymaloides (Devil's
Backbone), Euphorbia xylophylloides (Paddle cactus).
GESNERIACEAE
Aeschynanthus radicans (Lipstick Vine), Alsobia dianthiflora (Laceflower Vine), Episcia cupreata
(Flame Violet), Sinningia speciosa (Gloxinia), Streptocarpus ionanthus (African violets).
Website: https://gardens.si.edu/ – E-mail: gardens@si.edu – IG: @smithsoniangardens – Twitter: @SIGardens
MARANTACEAE
Goeppertia (Calatheas, Rattlesnake Plant), Ctenanthe (Fishbone Prayer Plant), Maranta (Prayer
Plant), Stromanthe.
MELASTOMATACEAE
Medinilla cummingii (Chandelier Tree), Medinilla magnifica (Showy Medinilla), Medinilla
multiflora (Malaysian Orchid).
MORACEAE
Dorstenia elata (Congo Fig), Ficus benjamina (Weeping Fig), Ficus elastica (Rubber Plant), Ficus
lyrata (Fiddle-Leaf Fig), Ficus maclellandii (Banana Leaf Fig), Ficus microcarpa (Indian Laurel or Banyan
Tree), Ficus pumila (Creeping Fig).
ORCHIDACEAE
Cattleya (Corsage Orchid), Cymbidium (Boat orchid), Dendrobium (Cane Orchid), Oncidium
(Dancing Ladies), Phalaenopsis (Moth orchid), Paphiopedilum (Tropical Lady's Slipper), Zygopetalum.

OXALIDACEAE
Oxalis triangularis (False Shamrock/Purple Woodsorrel).

PIPERACEAE
Peperomia (Radiator plants).

POLYPODIACEAE
Arachnioides (East Indian Holly Fern), Cyrtomium (Holly Fern), Davallia (Rabbit's Foot Fern),
Microsorum (Kangaroo Paw Fern), Nephrolepis (Boston Fern & Sword Fern), Platycerium (Staghorn
Fern), Polystichium (Christmas Fern).

PRIMULACEAE
Cyclamen (Persian violet).
PTERIDACEAE
Adiantum (Maidenhair Fern), Pteris (Ribbon/Brake Fern).

URTICACEAE
Pilea (Friendship Plant/Aluminum Plant), Pilea peperomiodes (Chinese Money Plant), Pellionia
pulchra (Polynesian Ivy or Watermelon vine).