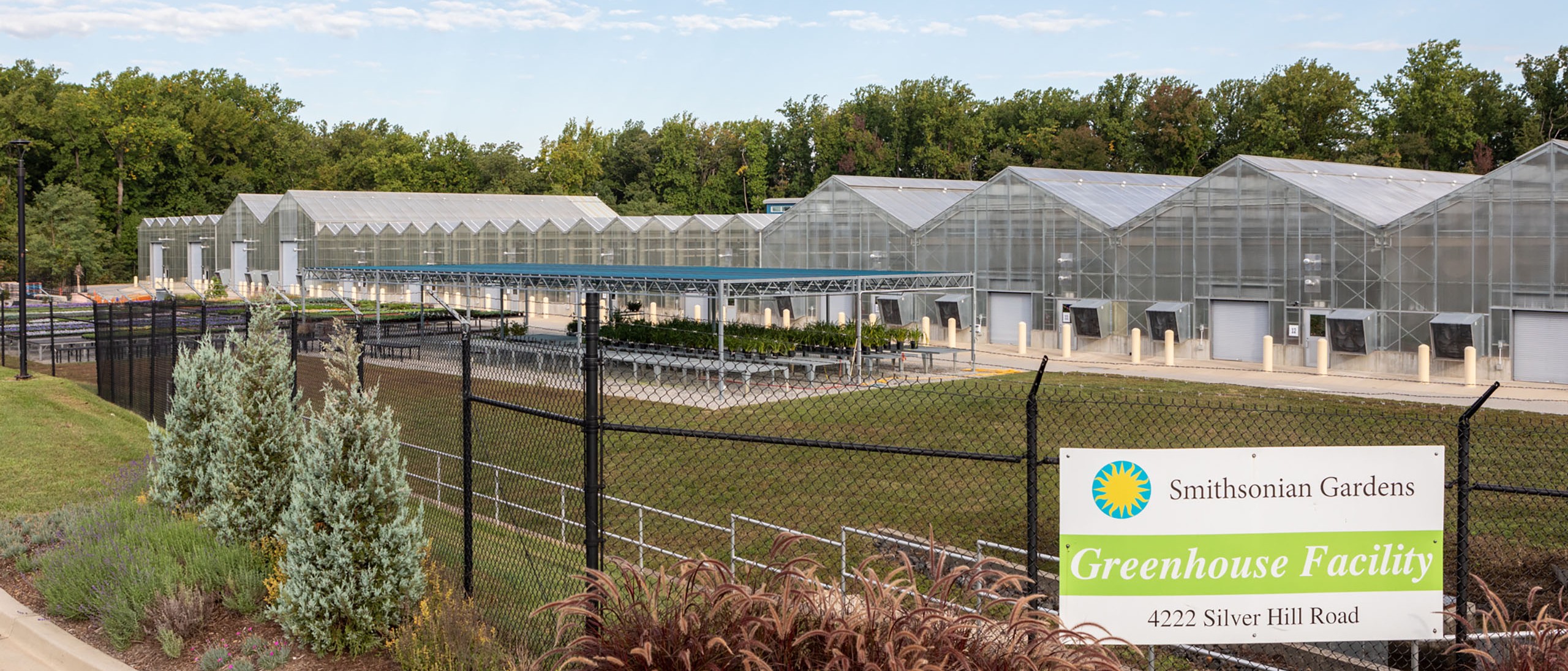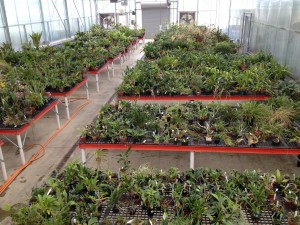 Completed in 2010, the Smithsonian Gardens Greenhouse Facility is located on the grounds of the Smithsonian's Museum Support Center in Suitland, Maryland. The Facility's 14 greenhouses, totaling 64,000 square feet, support six different horticultural programs including the Smithsonian Gardens Orchid Collection. Each greenhouse is equipped with a computerized environmental control system programmed to maintain customized growing conditions. Several specialized teams of horticulturists provide care for the many rotational crops of flowering and foliage plants produced here for display inside select Smithsonian museum galleries as well as the gardens and landscapes of the Smithsonian. The facility is not open to the public.
Butterfly Greenhouse
The Butterfly Greenhouse staff grows approximately 30 species of nectar source plants at Smithsonian Gardens' Greenhouse Facility for the National Museum of Natural History's Butterfly Pavilion. Opened to the public in 2007, the Pavilion's 1,680-square-foot indoor garden showcases a diverse collection of butterflies and native and tropical plants for visitors to enjoy. The Butterfly Greenhouse staff maintains nearly 400 colorful and fragrant plants and transports fresh specimens to the Butterfly Pavilion multiple times each week to ensure that healthy plants full of nectar are readily available for the butterflies.
Interior Plants Greenhouse
The Interior Plants Greenhouse houses mostly tropical and sub-tropical plants ranging in size from miniature terrarium varieties to large Cycads and Dracaenas, all of which are used to enhance the interior spaces of the Smithsonian museums. This greenhouse is climate controlled and shaded to replicate the low-light conditions the plants will encounter when on display. The Interiors Team maintains and provides new plants to refresh and enhance the horticultural displays they design, including 2,300 square feet of planted beds in the Robert and Arlene Kogod Courtyard. Once removed from a museum, many plants are brought back to the greenhouse to be rejuvenated and prepared for display once again.
Explore our interior horticulture displays >
Orchid Collection Greenhouses
The nationally accredited Smithsonian Gardens Orchid Collection contains over 6,000 specimens housed inside four separate greenhouses, each having specific temperature and humidity ranges that provide ideal growing conditions for the diverse species grown there. The greenhouses' automated systems, including a 10,000-gallon rainwater harvesting system and pressurized misting, cooling pad, circulation and shade controls, create an oasis that enable these plants to flourish. The orchids in these greenhouses serve as an invaluable resource for scientific research, educational programs, and exhibitions. Select specimens are displayed each year in an orchid exhibit co-sponsored by Smithsonian Gardens and the United States Botanic Garden. Orchids from the Smithsonian Gardens collection can also be found in specially-designed display cases inside the National Museum of American History as well as at various information desks within the Smithsonian museums.
Production Greenhouses
Smithsonian Gardens' Production Team cultivates a plethora of annual and perennial plant varieties as well as rare and unusual plant types in over 14,000 square feet of greenhouse space. Plants get their start from seeds, plugs, and rooted cuttings or are propagated in-house from existing stock plants. The team collaborates with Smithsonian Gardens' horticulturists and Interiors Team to develop planting designs for the Smithsonian's many gardens and landscapes. It also works with the Smithsonian museums to provide plant material for special programs and exhibits. Each year the Production Team produces more than 60,000 annual and perennial bedding plants, 2,000 poinsettias, and 250 hanging baskets which are put on display year-round in the Smithsonian gardens as well as in the Robert and Arlene Kogod Courtyard and other museum interior spaces.
Propagation Greenhouse
Smithsonian Gardens' Propagation Greenhouse is unique from all the other greenhouses thanks to it having an automatic mist system. Six different zones can be customized to create more ideal growing environments for recently planted surface-sown seeds and rooted cuttings. Newly arrived poinsettia plugs also get a chance to acclimate in their new environment by first making a stop in the propagation greenhouse before moving on to the production greenhouses. In addition to propagation, this greenhouse is home to many stock plants and tender specimens. Here, the plants are nurtured and rejuvenated so that they can be used as sources for seeds and cuttings for spring and summer crops destined for display in the Smithsonian gardens and landscapes. Trial plants and small batches of unusual or rare plant varieties are also found in this space.
Tropical Greenhouses
With nearly 10,000 square feet of greenhouse space, Smithsonian Gardens' Tropical Plant Team grows an array of foliage, flowering, and other exotic tropical and semi-tropical plants used for display throughout the Smithsonian gardens. Specimens range from fragrant flowering gardenias to massive palms. Moving these plants from the Greenhouse Facility to the Smithsonian campus presents many challenges. Forklifts and flatbed trucks are needed to load and transport specimens reaching as high as twenty feet tall. Due to the fact that few of them would be able to survive Washington, D.C.'s winters, the tropicals are returned to the Greenhouse Facility at the end of each fall season. During the winter they are fertilized, treated for any pest or disease problems, and pruned as needed so they will be ready for their annual spring return to the Smithsonian gardens.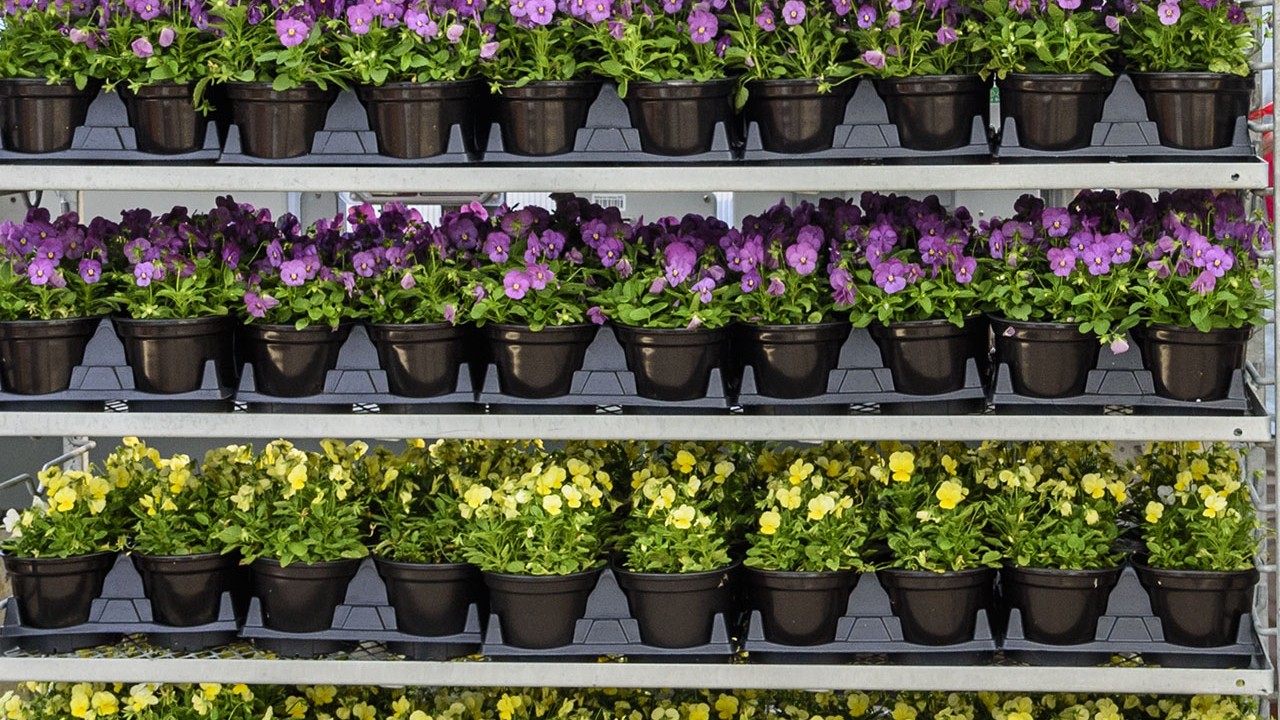 Colorful violas perched on carts await transplanting in the Smithsonian gardens on the National Mall.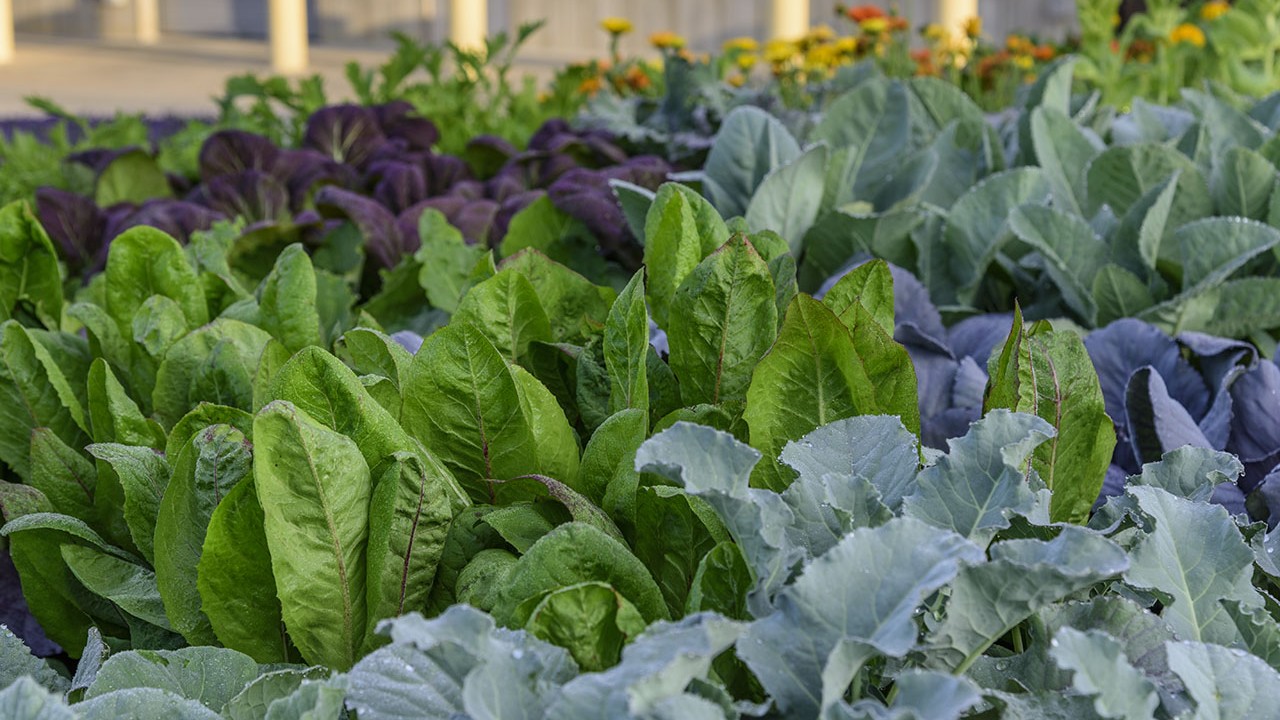 Early cool-season vegetables including broccoli, cabbage, lettuce, and red mustard are grown in the Greenhouse Production section for the National Museum of American History's Victory Garden.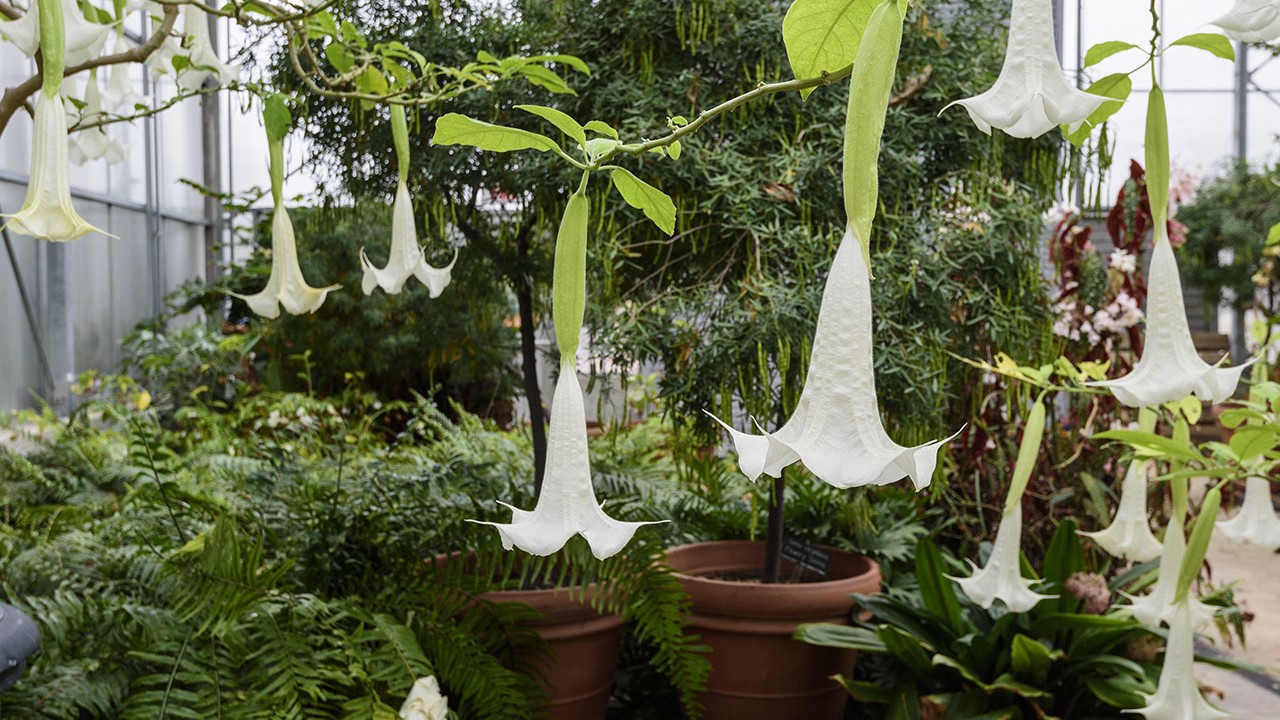 Heat-loving plants like this Brugmansia or Angel's Trumpet spend their winters in the Tropicals greenhouses.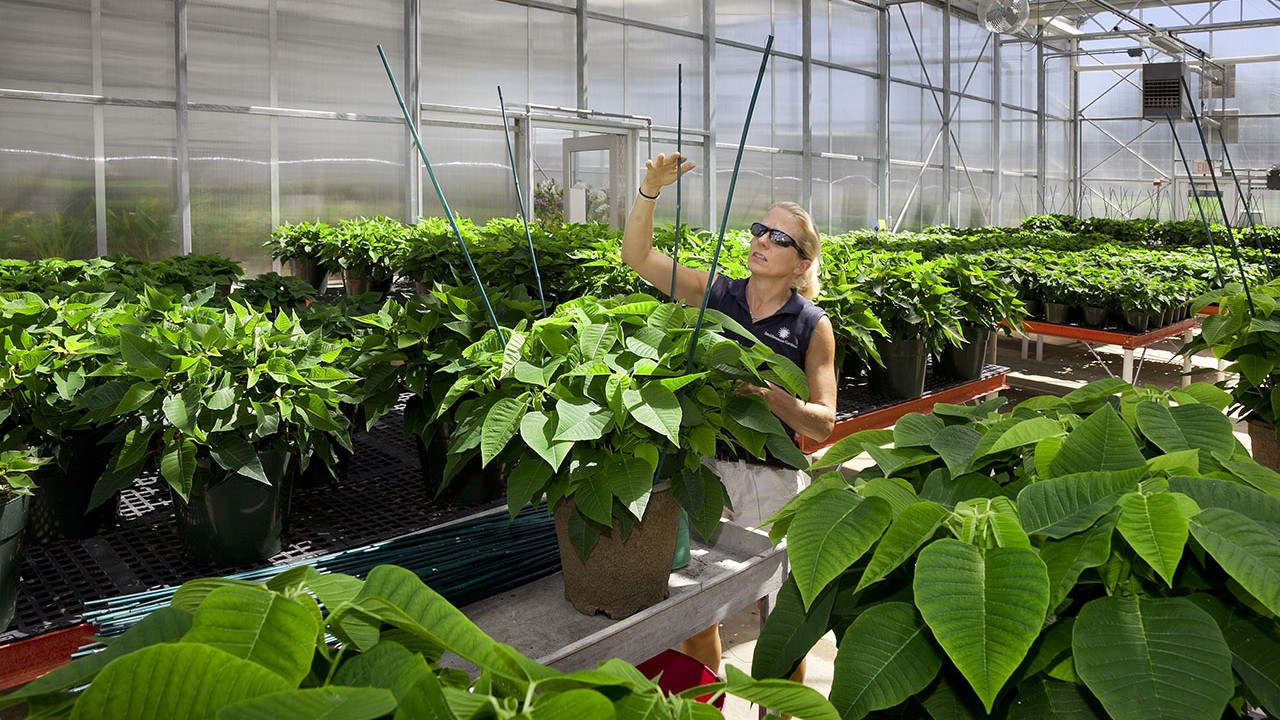 Horticulturist Jill Gonzalez stakes Poinsettias destined for holiday displays that start to appear inside the Smithsonian museums in November.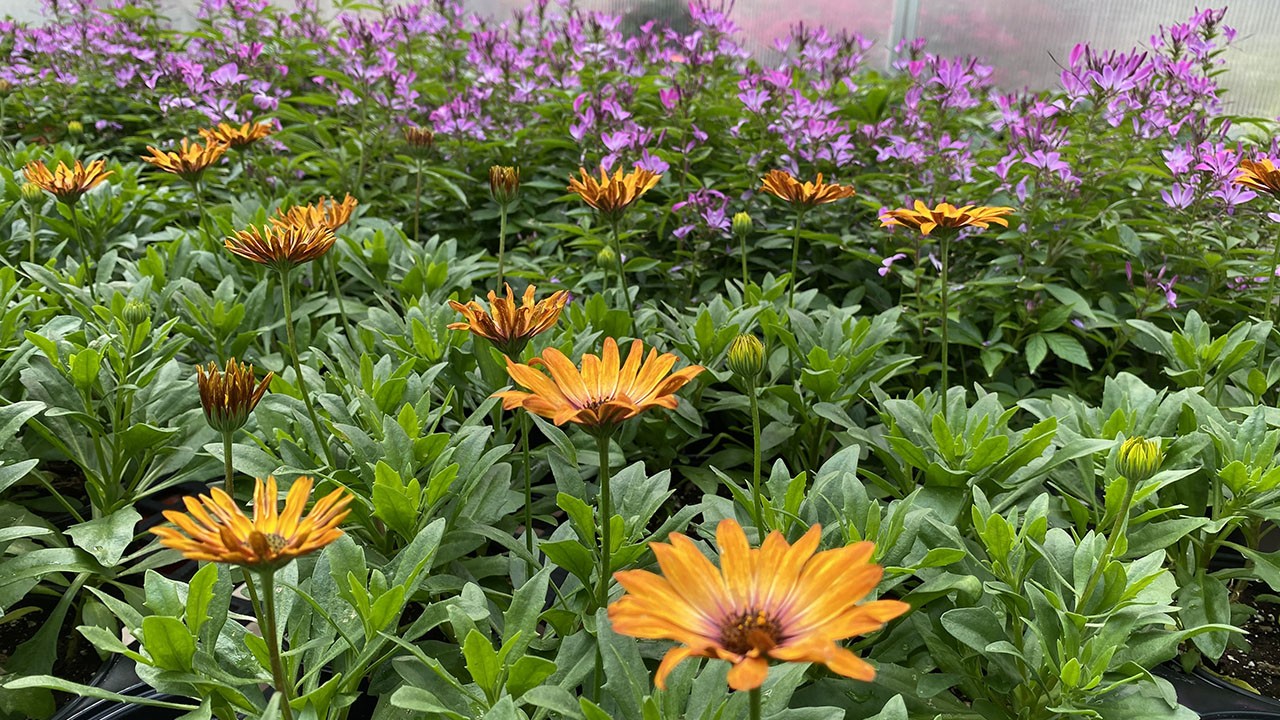 The striking orange of the Osteospermum stands out against the contrasting purple Cleome seen in the background. These are some of the many colorful annuals grown for summer displays.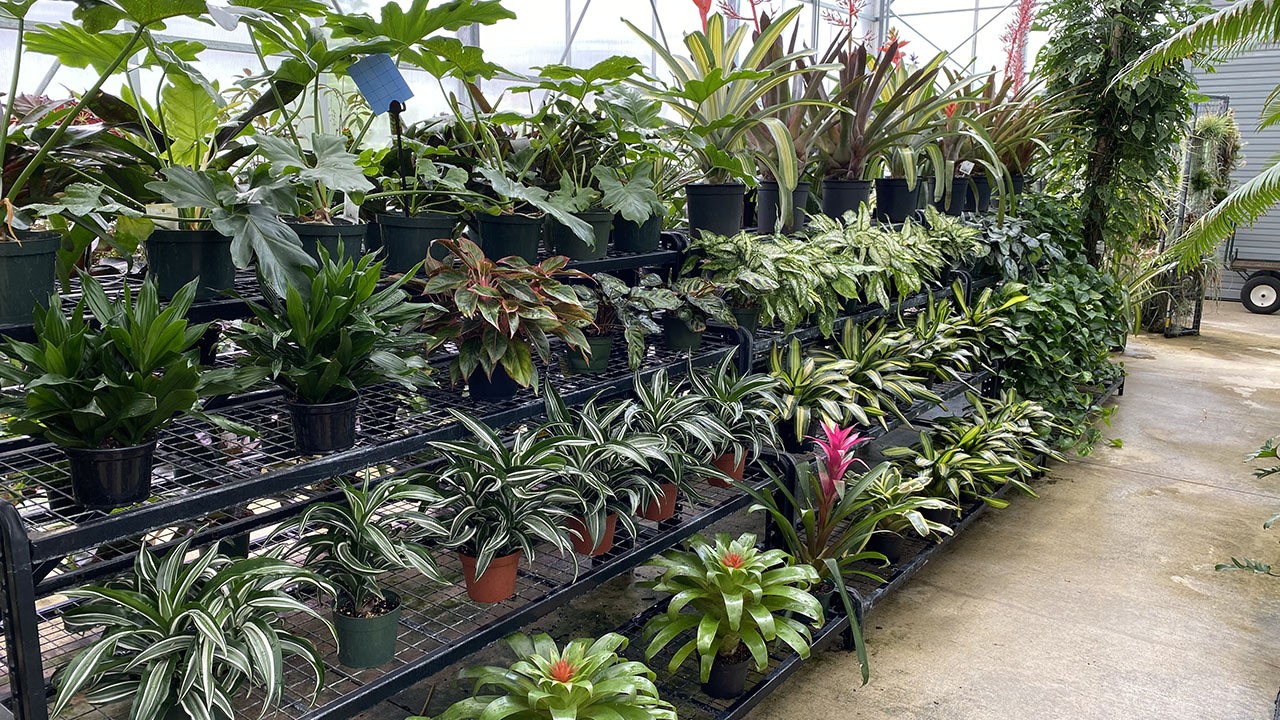 Dracaenas, Aglaonemas, Philodendron, Pothos, and various bromeliads grow in the Interiors greenhouse before they are showcased inside select museum spaces.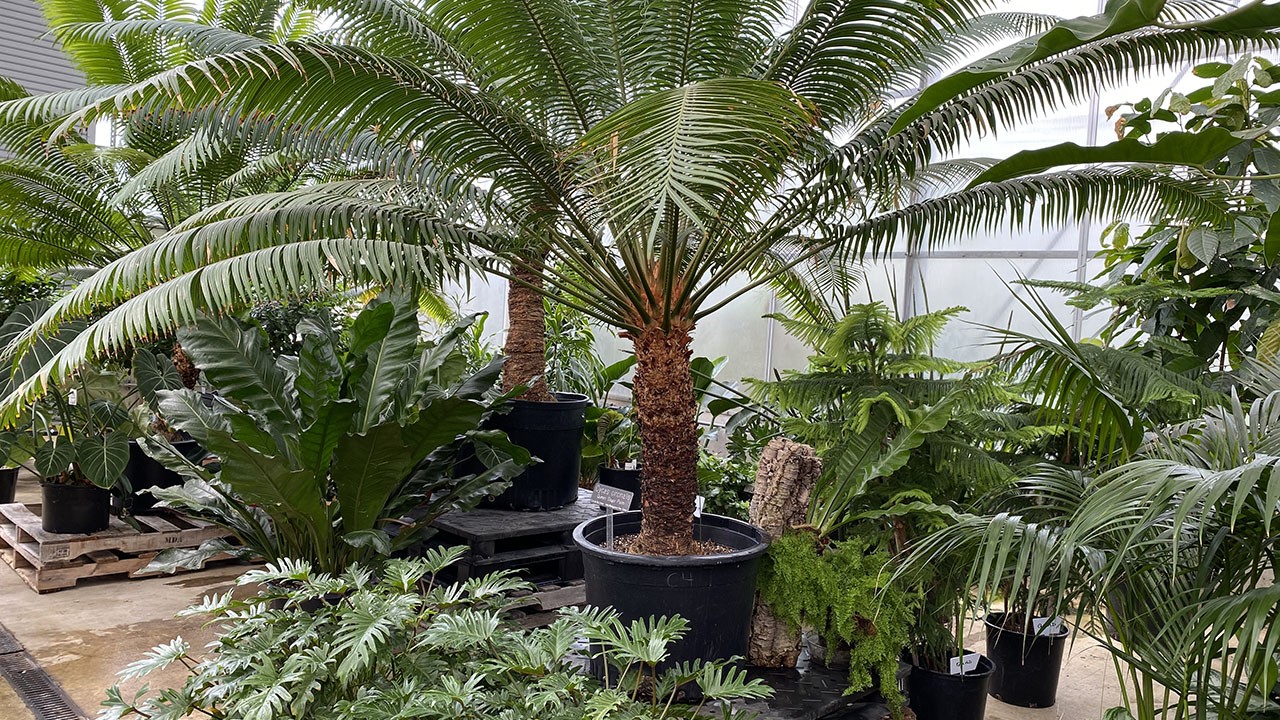 The large Queen Sago Palms seen here are rotated in and out of The Garden Lounge exhibit at the National Museum of Natural History.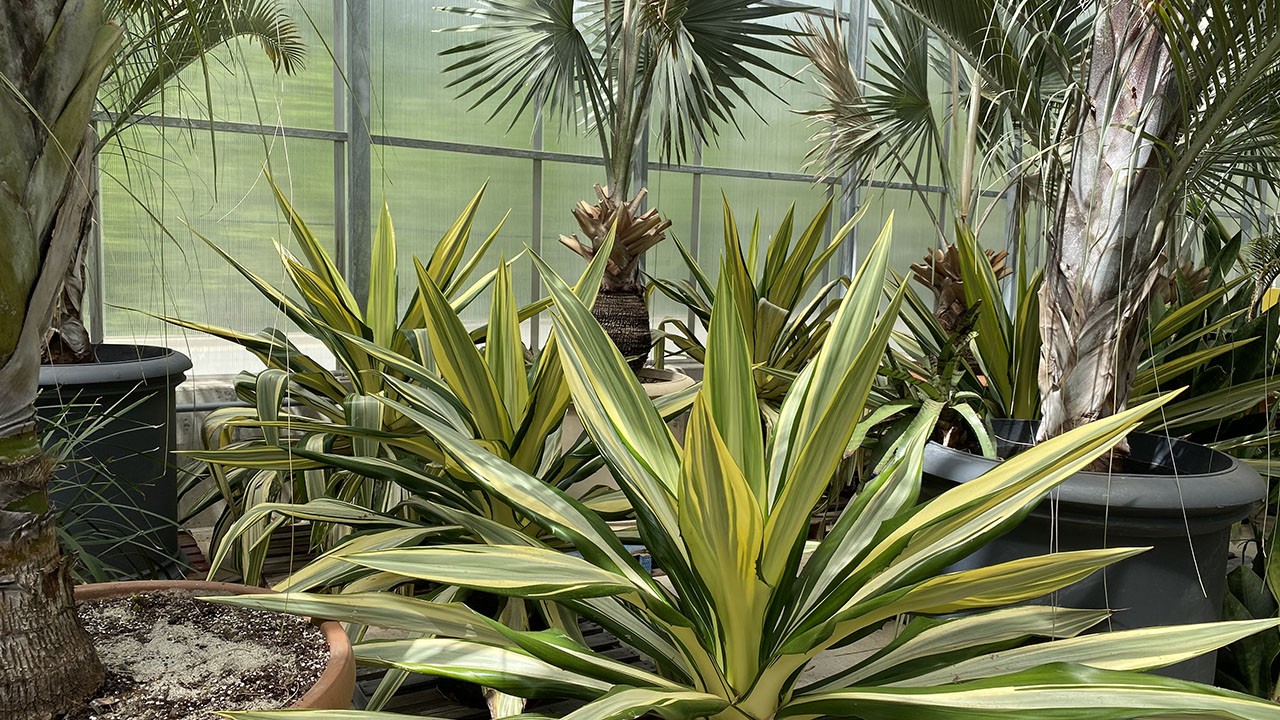 Variegated Furcraea, or False Agave, is one of many plants that overwinter in the Tropicals greenhouse. It is found on display outside the Smithsonian museums on the National Mall during the summer months.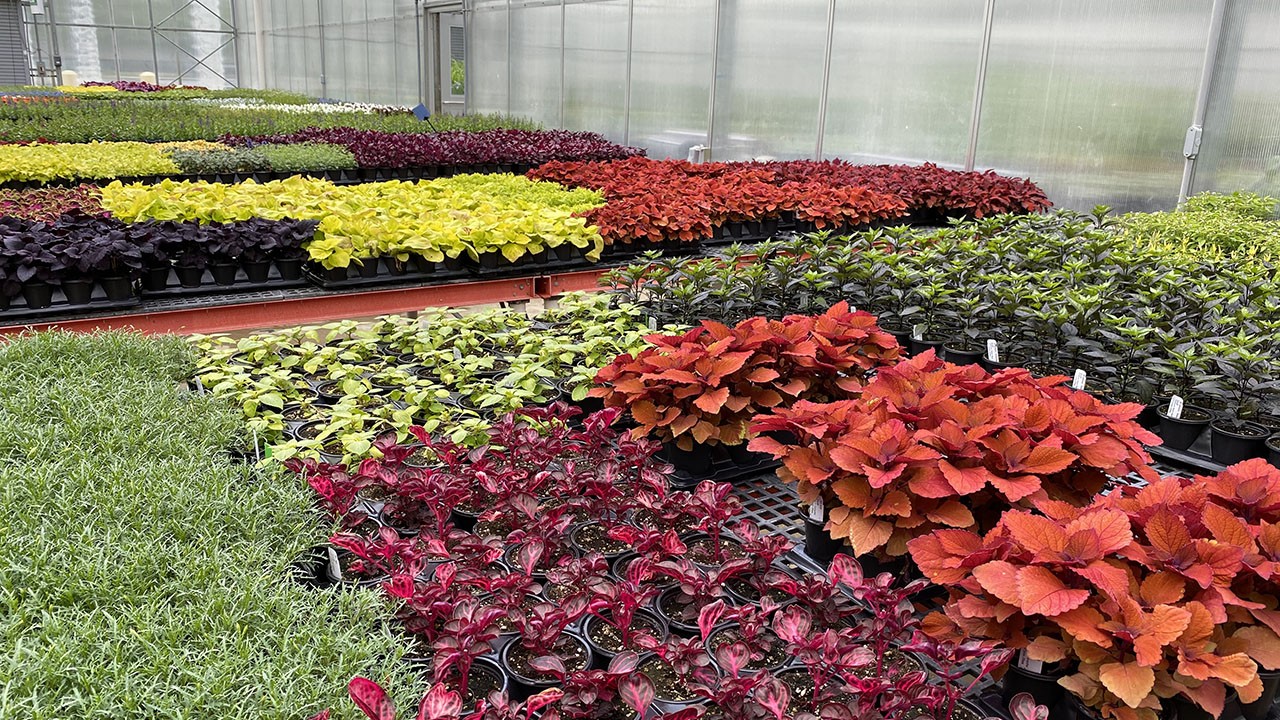 Warm-season annuals, such as Coleus, Peppers, Isotoma and Iresine, can be found in the Production greenhouses in the springtime.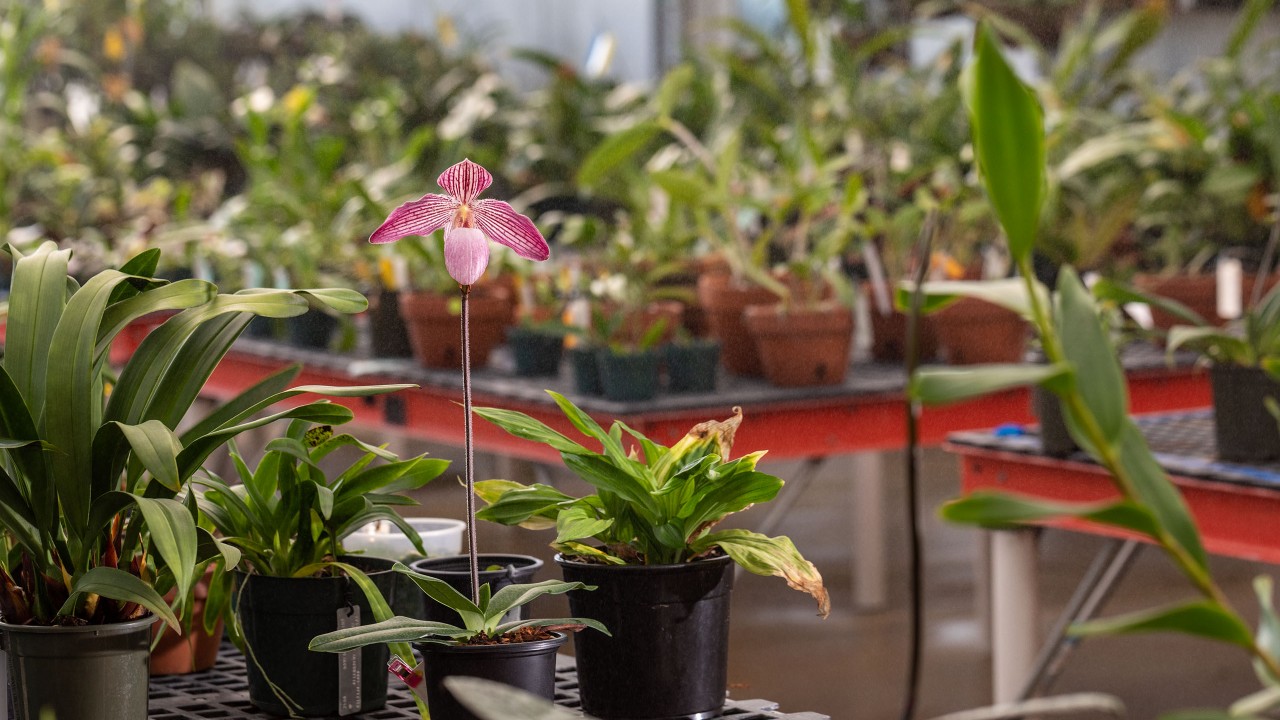 Orchid Collection Greenhouse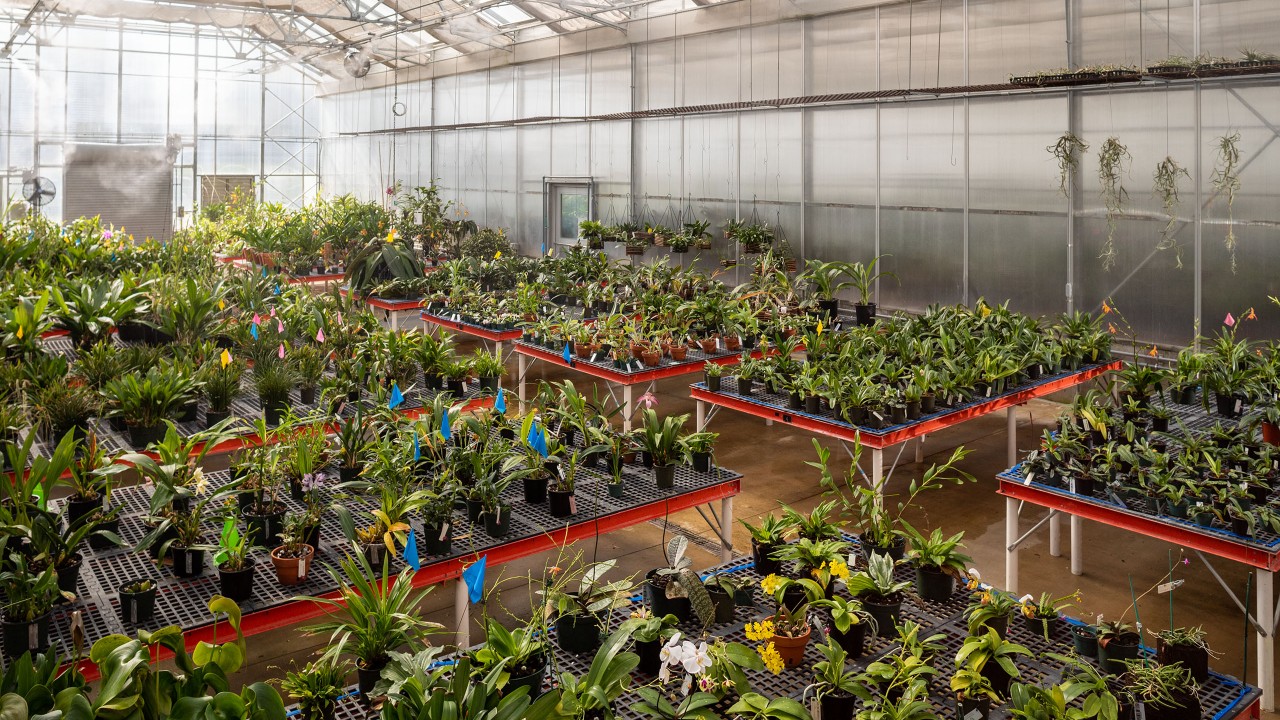 Orchid Collection Greenhouse
Previous
Next