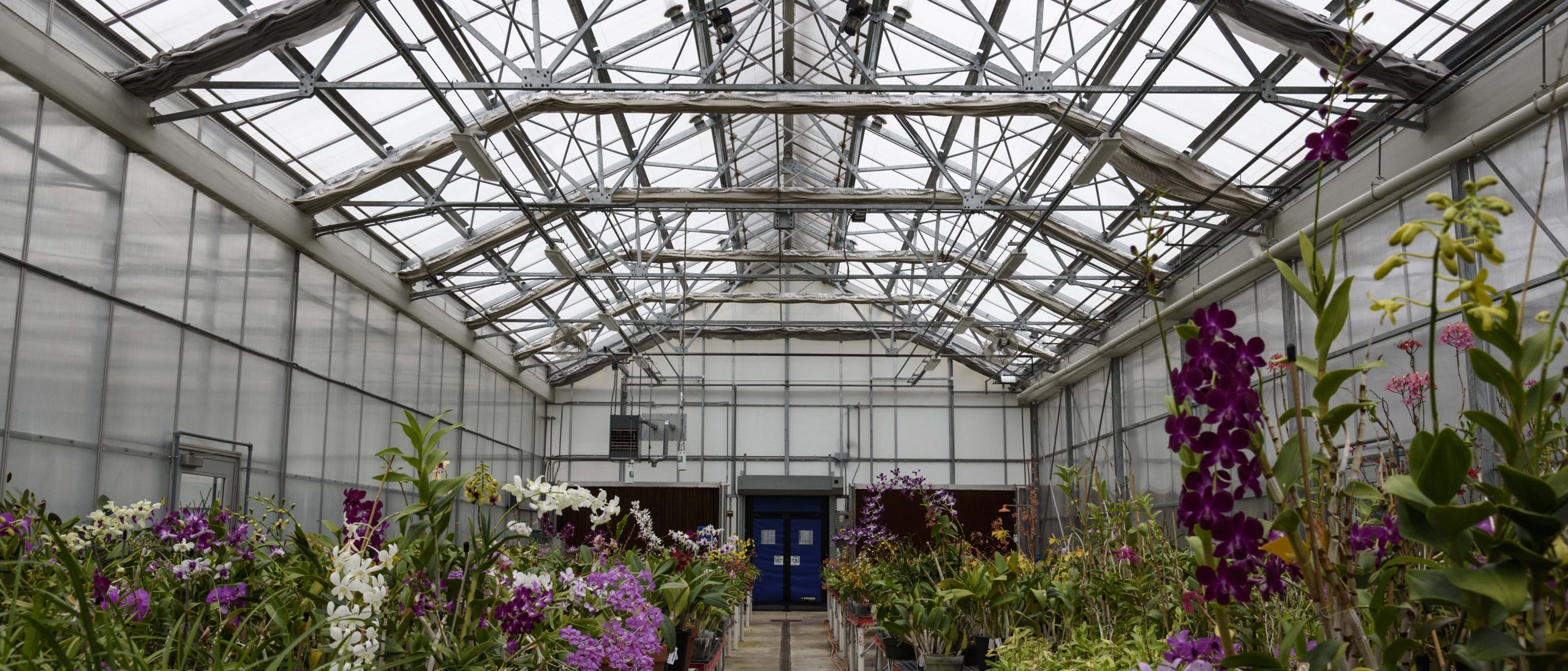 The Smithsonian Gardens Greenhouse Facility was completed in 2010. It includes 14 climate-controlled greenhouses with an on-site computerized environmental control system and is home to several teams that care for plants both at the greenhouses and throughout the Smithsonian museums. The facility is not open to the public.
Butterfly Greenhouse
The Butterfly Pavilion at the National Museum of Natural History opened in 2007. This enclosed 1,680-square-foot indoor garden showcases a diverse collection of tropical plants and butterflies. Smithsonian Gardens' staff grows approximately 30 species of nectar source plants in the Butterfly Greenhouse and maintains an inventory of about 400 plants within the exhibit. These colorful and fragrant plants provide an exciting learning opportunity for visitors. One full-time staff person is devoted to the cultural care of the butterfly plants at the Greenhouse Facility. This staff member also works closely with a Smithsonian entomologist and the Butterfly Pavilion staff on weekly plant rotations and maintenance.
Butterfly Pavilion hours and ticketing information >
Interior Plants Greenhouse
In the Interior Plants Greenhouse, staff maintains and acclimatizes display plants for use in interior displays throughout the Smithsonian museums. Displays range from individual plant specimens to spacious indoor gardens.
Explore our interior horticulture displays >
Orchid Collection Greenhouses
The Orchid Collection Greenhouses are home to the over 6,000 specimens included in the Smithsonian Gardens Orchid Collection. These greenhouses also include space for commercially-available hybrids used for display in exhibits, special events, and at Smithsonian information desks. Each year, plants from these greenhouses are featured in an orchid exhibit co-sponsored by Smithsonian Gardens and the U.S. Botanic Garden.
Production Greenhouses
Smithsonian Gardens staff cultivates annual and perennial plants as well as rare and unusual plants in the Production Greenhouses. They supply whatever plants are needed by the horticulturists who care for the Smithsonian gardens, landscapes and interiors. These plants are produced from seeds, plugs and rooted cuttings or propagated from existing stock plants. Every year the Production Section provides more than 100,000 annual bedding plants, 200 hanging baskets, and 2,000 poinsettias. This team also collaborates with planners of the annual Smithsonian Folklife Festival to grow plants that illustrate the cultural, culinary, or agricultural aspects of the featured participants.
Propagation Greenhouse
The Propagation Greenhouse includes an automatic mist system. This system is ideal for starting plants from seed, establishing rooted cuttings, and growing grafted specimens. There are six misting zones, which include two benches per zone. Each zone can be individually programmed with a start and end time each day, length of time for the mist to run, and interval length between misting.
In addition to propagation, this greenhouse is the winter home for many stock plants and tender specimens. Here the plants are nurtured and rejuvenated so that they can be used as sources for seeds and cuttings for spring and summer crops. There is also space for trial plants, small batches of unusual or rare varieties, dish gardens, and trained forms such as topiaries and espaliers.
Tropical Greenhouses
The Tropical Plant Section at the Smithsonian Gardens Greenhouse Facility grows the large specimen temperate and tropical plants that are displayed throughout the Smithsonian gardens. During the winter season, these plants are housed and maintained in the greenhouses; in the spring, they are relocated to the Smithsonian gardens and grounds surrounding the National Mall.
Some examples of the beautiful flowering specimens include Brugmansia 'Charles Grimaldi,' the fragrant gardenia, the exotic Aristolochia and Passiflora vines, and various Amorphophallus. Large palms and specimen foliage plants are displayed around the Smithsonian museums where visitors can relax and enjoy the beauty and tranquility of the gardens.