Fish in the Woods?
While walking my dog Tiber this weekend I encountered a sure sign that spring had truly arrived: the appearance of the trout lily. Technically known as Erythronium americanum, the trout lily is a true member of the lily family. It gets its common name from the mottled markings on its leaves which resemble a brook trout. Like many plants, the trout lily has more than one name. It is also called dogtooth violet because its small underground bulb resembles a dog's pointy canine tooth. (I checked Tiber's teeth and agree there is a resemblance.)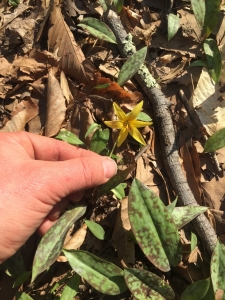 The trout lily's foliage and flower emerge when winter has ended and soil temperatures rise.  It blooms from early until mid-spring. Trout lily grows in partial shade in native deciduous woodlands where rich, moist soils are present.  As the trees leaf out and the forest floor becomes shaded it goes dormant till next spring which makes it an 'ephemeral.'  The nectar and pollen of the flowers attract various early bees. It forms large colonies and is a great addition to any shady spot in the home garden.
If you would like to add trout lily to your garden, find an area that gets uniform moisture even during the dormant summer months.  Other examples of great 'spring ephemerals' include Virginia bluebells (Mertensia virginica), Virginia Spring Beauty (Claytonia virginica), Mayapple (Podophyllum peltatum), and trilliums. Intersperse spring ephemerals with later-emerging perennials such as hostas and bleeding hearts. These will fill in the gaps as the ephemerals go dormant.
If you are out and about in wooded areas near your home, don't disturb these early spring adventurers as early bee species find them essential. You can easily purchase trout lily bulbs online or from a local garden center in the fall instead.