Winter Interest in the Garden
Just because it is winter does not mean that our gardeners or gardens get a rest.  Smithsonian Gardens welcomes visitors year-round.  These visitors include many tourists but also wildlife, as our gardens serve as an important urban habitat for birds, insects, and mammals. 
Within our gardens you will find many plants that add winter interest beyond our impressive annual displays of pansies, violas, and kale.  Important garden features in this bleaker season include berries, grasses, seedheads, stems, bark, evergreens, and even some flowers. 
Fruit and berries are a great way to brighten up a winter landscape and many serve as an important food source for birds.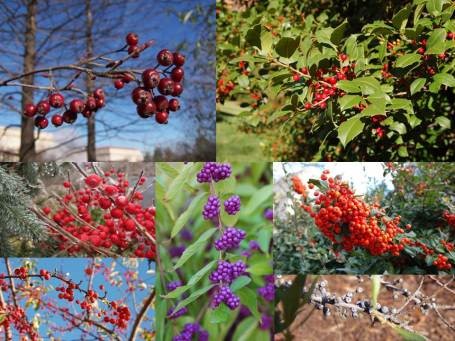 Berries you will find in our gardens include (clockwise from upper left) Red Chokeberry (Aronia arbutifolia); American Holly (Ilex opaca); Firethorn (Pyracantha 'Mohave'); Southern Bayberry (Morella cerifera); Beautyberry (Callicarpa dichotoma); Carmine Crabapple (Malus x atrosanguinea); and Winterberry (Ilex verticillata) 
When selecting plants for winter berries note whether they are deciduous or evergreen.  The pointed rich green leaves of the American Holly above create a great contrast to the bright red berries while the Winterberry (Ilex 'Sparkleberry') below looks better with a solid backdrop like an evergreen to best stand out.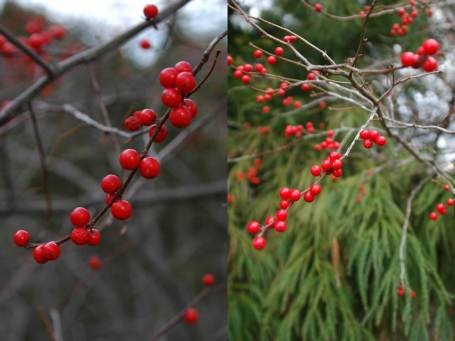 Grasses and sedges add texture to our gardens in winter and some add great color as well.  Many of the grasses also provide seeds for birds in winter and nesting materials come spring.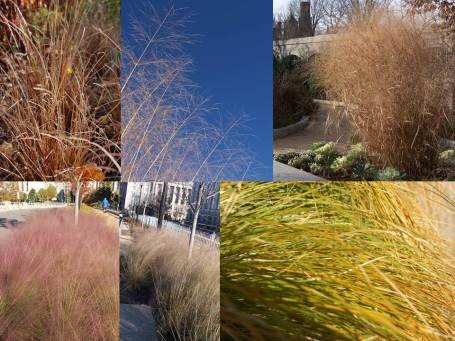 Some of the grasses and sedges you will find on our gardens include (clockwise from upper left) Leather leaf sedge (Carex buchananii 'Red Rooster'); Switch Grass (Panicum virgatum 'Cloud Nine') [close-up and full plant]; Orange New Zealand Sedge (Carex testacea); and Pink Muhlygrass (Muhlenbergia capillaris) [pictured in November and January] 
Seedheads create interest with varying shapes and textures and make a dynamic feature in winter as they mature and disperse.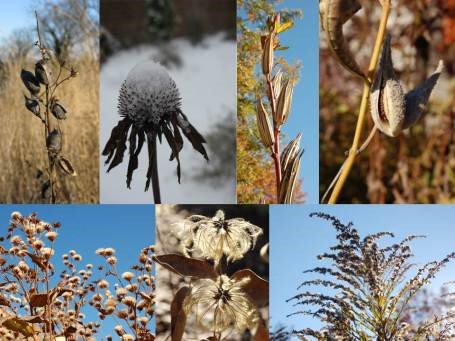 Seedheads and pods that draw attention in our gardens include (clockwise from upper left) False Indigo (Baptisia australis); Purple Coneflower (Echinacea purpurea); Okra (Abelmoschus esculentus); Common Milkweed (Asclepias syriaca); Goldenrod (Solidago spp.); Whitehair Leather Flower (Clematis albicoma); and Upland Ironweed (Vernonia glauca) 
Remember these seedheads are the result of earlier flowers from plants that have multiple seasons of interest.  Some of these seeds are now food sources for birds,  but their flowers were nectar sources, or some had foliage that fed caterpillars, in earlier seasons.  Take the Wild Senna (Senna marilandica) below, for example. It is a wonder native plant with nectar-providing pea-like flowers and is a host plant for sulfur butterflies in the summer.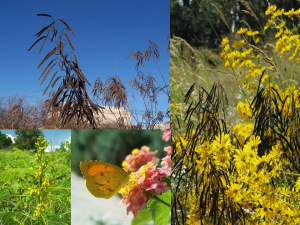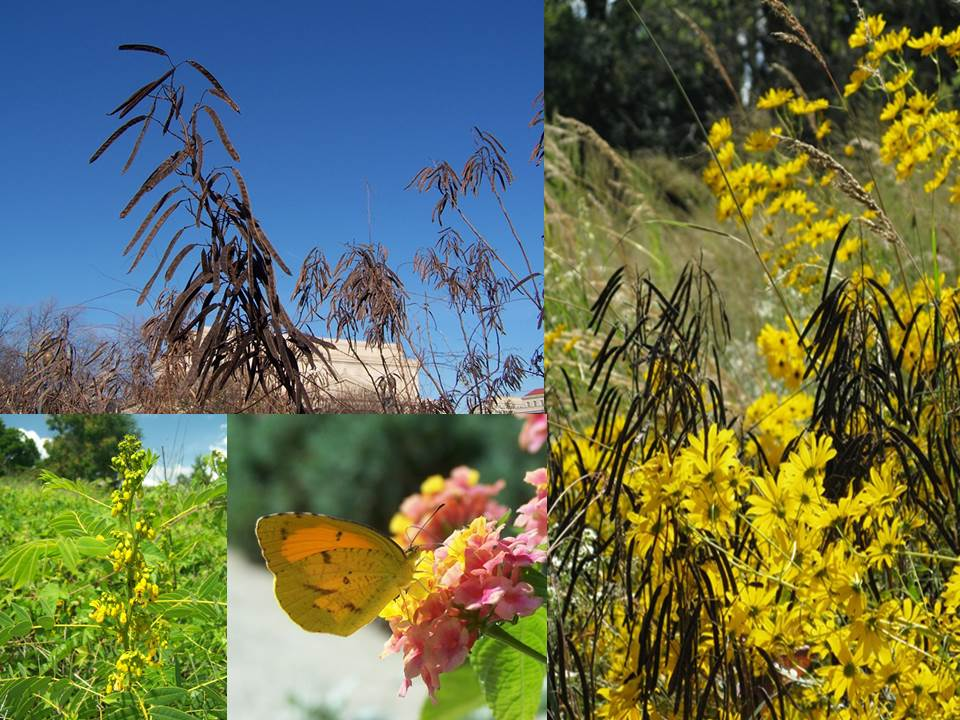 Differing barks and branches also play a significant role in enhancing our gardens in winter.  Peeling barks of birches, brightly-stemmed twig dogwoods, and the towering dry stems of perennials can all become dominant features in the winter.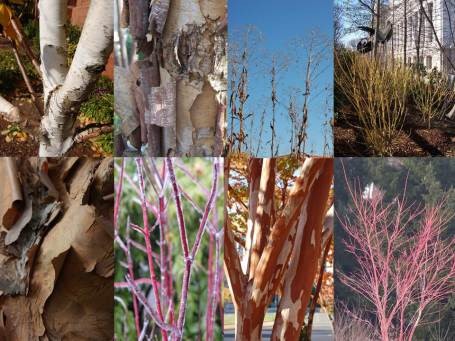 Some of our most striking stems in the gardens are seen with (clockwise from upper left) Paper Birch (Betula papyrifera 'Renci'); River Birch (Betula nigra 'Heritage'); Hollow Joe Pye Weed (Eutrochium fistulosum); Tatarian Dogwood (Cornus alba 'Bud's Yellow'); Coral Bark Japanese Maple (Acer palmatum 'Sangokaku'); Crape Myrtle (Lagerstroemia ssp.); Red Twig Dogwood (Cornus sericea 'Baileyi'); and Paperbark Maple (Acer griseum) 
Evergreens are a key element to add structure in gardens during the winter.  There are a variety of evergreens available with a myriad of shapes, textures, and even colors.  Evergreens can be needled conifers but also broadleaf trees and shrubs and even some perennials hold their foliage in the winter months.  They also provide important cover and shelter for many species in winter.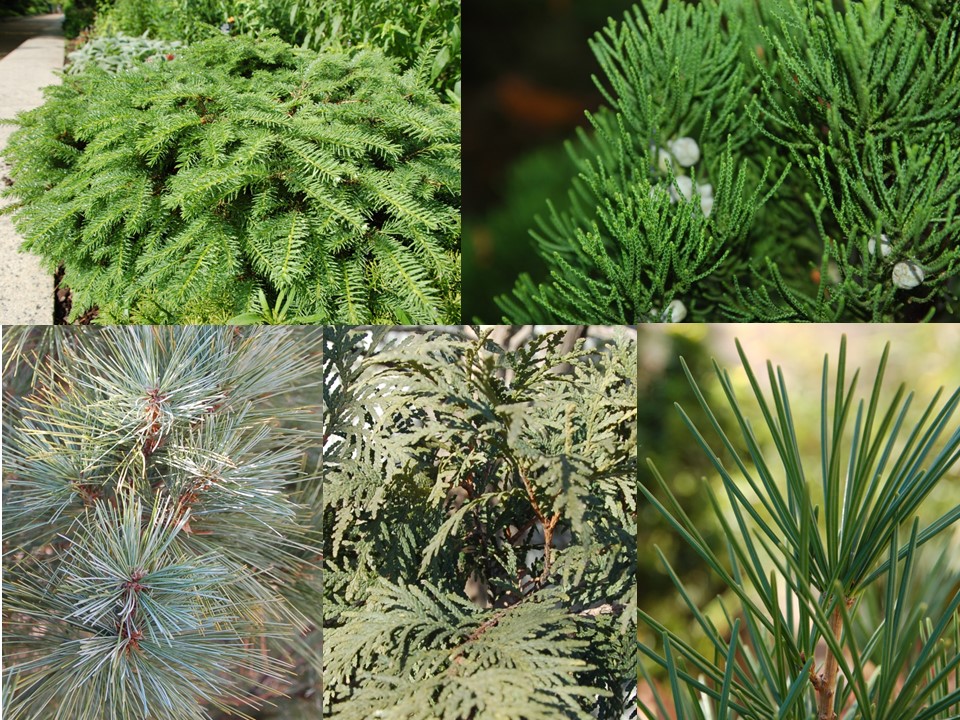 A small sampling of our many needled evergreens include (clockwise from upper left) Eastern Redcedar (Juniperus virginiana 'Burkii'); Umbrella Pine (Sciadopitys verticillata); Irish Yew (Taxus baccata 'Fastigiata'); Japanese Cedar (Cryptomeria japonica); and Scotch Pine (Pinus Sylvestris 'Burghfield').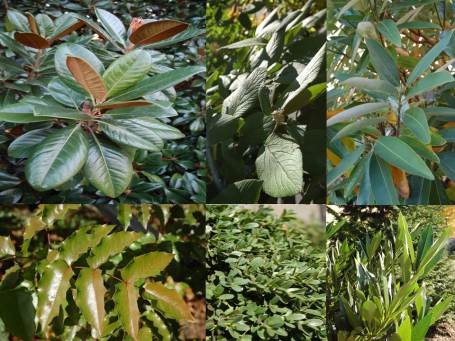 Some of the more dominate broadleaf evergreens in our gardens are (clockwise from upper left)
Southern Magnolia (Magnolia grandiflora); Lantanaphyllum Viburnum (Viburnum x rhytidophylloides); Sweetbay magnolia (Magnolia virginiana); English Cherry Laurel (Prunus laurocerasus 'Otto Luyken'); Common Boxwood (Buxus sempervirens); and Oregon Grape (Berberis aquifolium)  
Lastly we can't forget about winter flowers.  There is not much that blooms at this time but those flowers that do truly give us reason to celebrate.  They are also important nectar source for late and earl- season pollinators.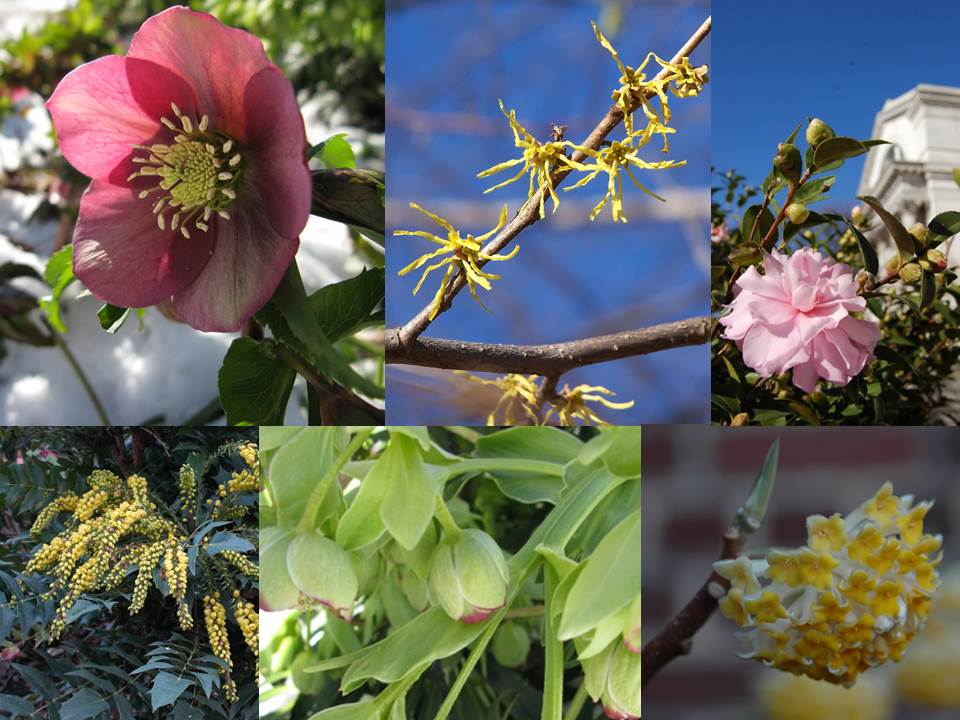 Blooms you can spot in Smithsonian Gardens in winter are (clockwise from upper left) Lenten Rose (Helleborus x hybridus); Common Witchhazel (Hamamelis virginiana); Sasanqua Camellia (Camellia sasanqua 'Jean May'); Paperbush (Edgeworthia chrysantha); Stinking Hellebore (Helleborus foetidus); and Beale's Mahonia (Berberis bealei) 
I encourage you to take a walk through our gardens on a nice winter day and see what interesting plants you spot. 
-James Gagliardi, Smithsonian Gardens horticulturist