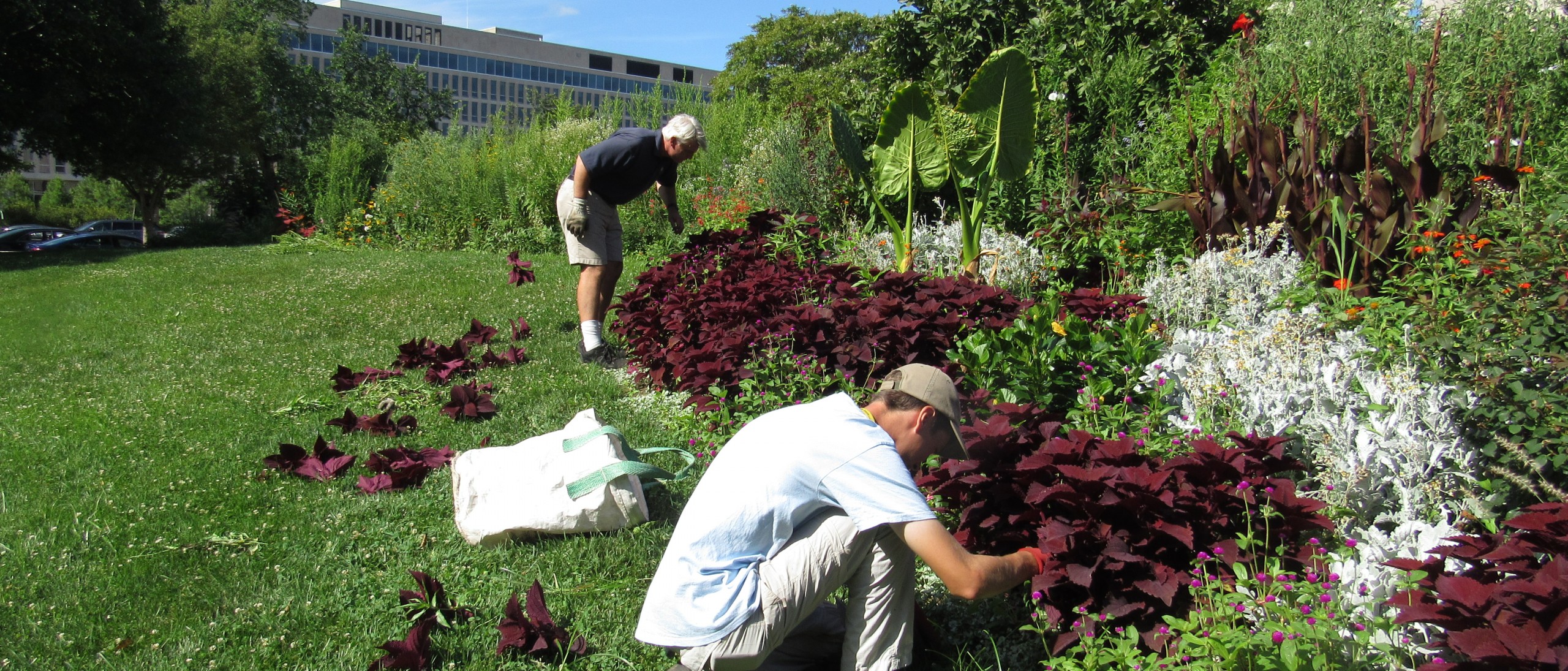 Smithsonian Gardens (SG) designs, manages, and maintains the gardens and landscapes of the many Smithsonian museums in Washington, D.C., which attract over twenty million visitors each year. SG also develops horticultural displays and exhibitions for exterior and interior museum spaces.
Overview
Horticulture internships at Smithsonian Gardens are designed for students who seek a valuable learning experience in a public garden with a diverse workforce. Interns will work closely with horticultural professionals to acquire hands-on experience and complete meaningful projects with lasting value to SG. They will also get a chance to develop skills in public engagement.
Interns will learn about maintaining ecologically balanced habitats by performing regular horticulture maintenance duties including planting, watering, weeding, pruning, and fertilizing. These duties involve manual labor, exposure to adverse weather conditions (particularly heat and humidity), dirt, dust, and possibly some horticultural chemicals. Interns will be instructed in and exercise safe working practices.
Special projects are typically added to an intern's regular duties so that they can practice project management skills needed to see a project through from start to finish. Projects vary greatly and are determined on an individual basis. They may include everything from record-keeping, analyzing ecosystems, and conducting independent research to turf management and public programming. Interns will have the opportunity to network with a team of professional horticulturists, gardeners, landscape architects, and entomologists responsible for the design, installation, and maintenance of seasonal and permanent plantings on the Smithsonian campus.
Duties
Perform daily hands-on, horticulturally related tasks in a public garden setting including planting, watering, pruning, weeding, mulching, fertilizing, propagating, and pest control.
Develop and carry out special projects.
Engage with the public by answering general questions about the Smithsonian gardens and landscapes.
Responsible for prioritizing and accomplishing daily individual assignments, as assigned.
Participates in group work projects.
 Learns plant identification and botanical names, as appropriate.
Requirements
Applicants must be enrolled in a university horticulture or related program or recently graduated from one. Selection is based on both an evaluation of the applicant's application and available positions.
Candidates must pay for their own travel, housing, and subsistence during the period of the internship. Limited number of stipends available.
Steel-toe safety shoes are required for certain projects. The shoes must meet ANSI Safety Standard Z41.1.
Requirements for applying to the Smithsonian Gardens intern program:
Submit an online application.
Two letters of recommendation
College transcript(s)
Essay describing background, interest in the field, and career goals.
Submission
Completed application, essay, academic records, and two letters of recommendation should be submitted online through the Smithsonian Online Academic Appointment System.